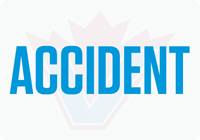 THERE have been four single-vehicle collisions in Surrey since Sunday with one death and two people sustaining injuries.
ON Thursday, Surrey RCMP announced that the driver involved in a single-vehicle collision just after midnight had died as a result of his injuries.
On March 23 at approximately 12:08 p.m., Surrey RCMP responded to the report of a single-vehicle collision in the 13100-block of 72 avenue. A black Jaguar sedan was travelling westbound on 72 Avenue when it lost control and struck the centre median. The 21-year-old male driver of the vehicle was transported to hospital with life-threatening injuries. Despite all lifesaving efforts, the man succumbed to his injuries.
The Surrey RCMP Criminal Collision Investigation Team took conduct of the investigation. Although it did appear that speed was a contributing factor in the collision, a full and complete investigation was required to determine all circumstances that lead to this fatality, police said.
ON Tuesday at approximately 6:17 a.m., Surrey RCMP were called to a single-vehicle collision at the intersection of 148 Street and 64 Avenue. A commercial vehicle appeared to have struck a Hydro pole carrying active power lines.
Police closed 64 Avenue from 152 Street to 146 Street and advised motorists to avoid the area and find a different route for their morning commute as the collision had caused severe traffic disruption.
Police said that the incident was still under investigation but alcohol and speed were not believed to be factors.
ON Monday at approximately 6:14 p.m., Surrey RCMP responded to a single-vehicle collision on 88 Avenue, east of 140 Street. The vehicle involved was traveling eastbound on 88 Avenue from 140 Street when it drove up onto the sidewalk and struck a pedestrian.
Surrey RCMP members arrived on scene and provided first aid care to the pedestrian, who was subsequently transported to hospital with minor injuries. Police closed 88 Avenue for hours for investigative purposes.
Police said that it appeared that speed was a factor in this incident, and the driver had been taken into custody, pending the investigation.
ON Sunday at approximately 2:06 p.m., Surrey RCMP responded to a single-vehicle collision on 60 Avenue, east of 150 Street. The vehicle struck numerous parked cars before striking a utility pole, downing the pole and wires.
The collision and damage to the utility pole has resulted in the closure of 60 Avenue, between 150 Street and 152 Street to facilitate removal of the vehicle and installation of a new power pole.
Surrey RCMP said that it was not apparent if alcohol or speed were a factor. The driver was taken into custody, and transported to hospital with non-serious injuries.