TRANSLINK has partnered with Vancouver-based company adtrackmedia to illuminate commutes with new innovative technology that will display full-motion videos through SkyTrain windows for customers travelling in the Dunsmuir tunnel.
TransLink is the first transit agency in North America to implement this technology, which will bring in a new advertising revenue source and improve customer communication.
"This new technology provides an innovative and immersive experience for customers travelling along the Expo Line," said TransLink CEO Kevin Quinn on Tuesday. "This first-in-Canada technology is transforming marketing and communications on transit systems all over the world while also allowing agencies to collect new revenue."
Local advertising company adtrackmedia has installed and will maintain the technology, while also managing the advertising content. They have seen success implementing this technology in South American, Asian, and European markets before launching this futuristic advertising platform in North America.
"With an established global presence, we are excited that our North American expansion begins here at home in Vancouver with TransLink and TELUS," said adtrackmedia CEO Ken Bicknell. "adtrackmedia's technology has created a premium media format that is highly in demand in the growing global digital out of home advertising landscape."
TELUS is the first company in North America to purchase advertising space from adtrackmedia using this new innovative technology. Throughout the first year, commuters will enjoy TELUS content showcasing the brand's beloved critters. Some of the messaging space is also reserved for TransLink customer communication.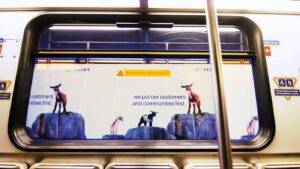 "In today's world of mass media consumption, we are always looking for new and immersive ways to share our beloved brand with Canadians, with the hopes of bringing a smile to transit riders each day on their commute," said Lisa Mack, Vice President, Brand Marketing, TELUS. "We are excited to partner with adtrackmedia and TransLink as we embark on this new digital advertising experience."
Installation and maintenance of the technology comes at no expense to TransLink. This technology is first being installed in the Dunsmuir tunnel while TransLink and adtrackmedia work on potentially bringing this technology to other tunnels on the SkyTrain system in the future.
Tunnel Video Facts:
* 10-second silent dynamic videos are playing now for customers travelling eastbound from Waterfront to Burrard Station.
– In the coming months, videos will also play for customers travelling westbound from Stadium-Chinatown to Granville Station.
* Each tunnel advertising system is made of 360 vertical LED lights to create smooth in-motion videos.
* The advertising systems use sensors that detect incoming trains to automatically display full-motion videos as they enter the Dunsmuir tunnel.