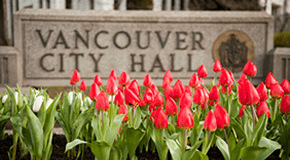 Crews redeployed to assist with snow clearing and garbage collection
GREEN Bin collection is suspended for the remainder of the week as Green Bin crews have been redeployed to assist with snow clearing, salting and garbage collection, the City of Vancouver announced on Wednesday. Regularly scheduled organics collection will resume Tuesday, February 19 following the Monday holiday. Garbage collection will continue as regularly scheduled.
City crews are continuing to clear snow and salt hilly streets and hard to access laneways to improve safe access for garbage and recycling collection.  City crews have added more garbage collection trucks to service all areas that that may have been missed.
The City said it appreciates residents' patience as its crews try to safely provide collection services.
Recycling Update from Recycle BC:
The City said it is working closely with Recycle BC to further coordinate snow clearing and salting efforts to support recycling collection. Recycling collection was cancelled for Wednesday due to snow and inaccessible routes, and unsafe conditions. If your recycling boxes / bags were not collected on Wednesday, bring in your recycling and set it out on your next scheduled collection day.
For garbage and green bin collection notifications and up-to-date service alerts, residents can download VanCollect or visit, vancouver.ca/garbage .
For recycling collection information or to download Recycle BC's recycling app, visit recyclebc.ca/vancouver.