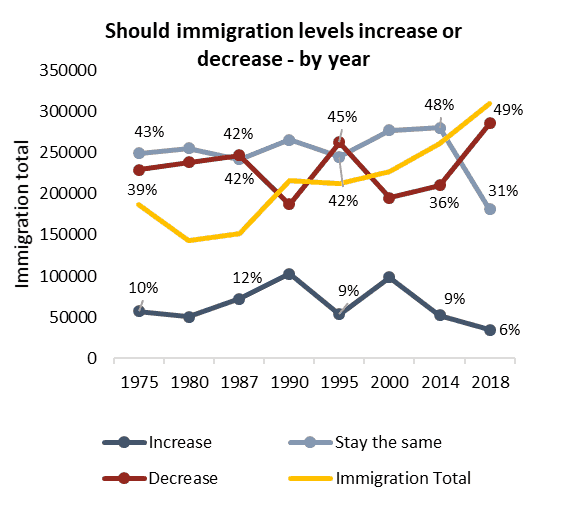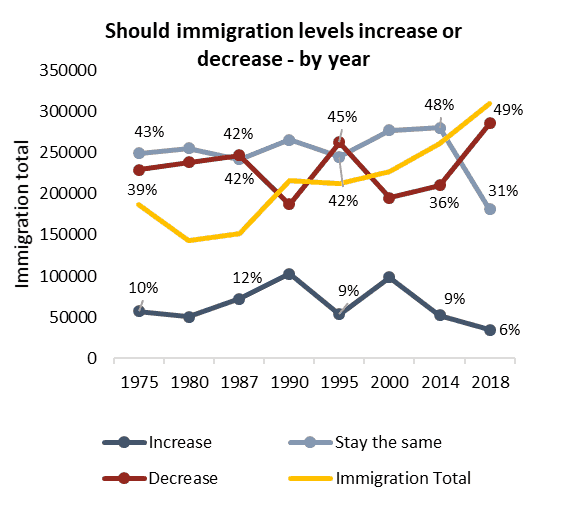 ANGUS Reid Institute, in an analysis of current and historical public opinion data, finds that half of Canadians would prefer to see the federal government's current immigration target of 310,000 new permanent residents for 2018 decreased.
For those currently opposed, the qualifications of immigrants do not appear to matter. While Canadians are generally positive about the economic benefits of immigration for the country, across each of the three major classes of permanent residents – economic, family and refugee / humanitarian – a majority of those who say immigration is too high also say that each of these individual group totals should be reduced.
This analysis finds that over the course of four decades, the number of Canadians saying immigration is either at the right level or should be increased has remained above fifty per cent, even as immigration levels have consistently risen, beginning under the Mulroney government in the 1980's. Over the same period of time, the number saying immigration levels should be decreased has fluctuated within the 40 to 50 per cent range, suggesting the issue has been a source of division for more than 40 years.
The most recent data reveals a notable change, however. As immigration targets have risen from 260,000 to 310,000 between 2014 and 2018, so too have the number of people saying there should be fewer immigrants to Canada: one-third (36%) said this in 2014, half (49%) say it now.
More Key Findings:
* Half of Canadians (49%) say that the 2018 target of 310,000 is too high. Three-in-10 see that number as about right, while the rest say it is either too low (6%) or they are unsure (14%)
* Past Liberal and NDP voters are far more inclined to say that levels are "about right" (41% and 35% respectively) than 2015 Conservative voters – two-thirds of whom (67%) say immigration should be reduced.
* Overall, however a significant segment – at least four-in-ten who voted for each of the three main parties in 2015 say immigration levels should be reduced
* Educational attainment appears to be a factor in views about immigration levels. Those with a high school education or less are nearly twice as likely as university educated Canadians to say that levels should be reduced (59% to 32%).