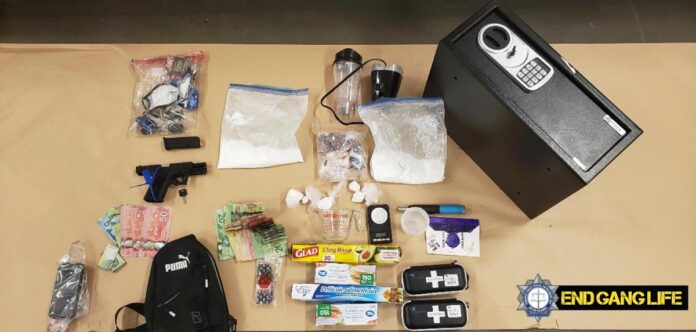 AN illegally parked vehicle that was spotted by a member of the Uniform Gang Enforcement Team (UGET) of the Combined Forces Special Enforcement Unit of British Columbia (CFSEU-BC) led to the arrest of 40-year-old Keith Alcock, who was wanted on a Canada-wide warrant, along with the seizure of an illegal firearm and drugs believed to be crystal methamphetamine, cocaine and fentanyl.
On Friday, December 18, CFSEU-BC's Uniform Gang Enforcement Team was on patrol in the 20400-block of 88th Avenue in Langley, when an alert officer noticed an unoccupied vehicle illegally parked. The officer confirmed that the vehicle was registered to Alcock, currently serving a seven-year, eight-month sentence for armed robbery, robbery with a firearm, and other offences including breach of probation.
Two additional Uniform Gang Enforcement Team officers attended the scene and while they were watching the vehicle, the first officer went into a local business to inquire if the owner of the vehicle was there. While the officer was inside the business, Alcock returned to his vehicle, where he was identified and arrested by the waiting officers. He was arrested without incident. Incident to his arrest, officers located drugs secreted in his clothing, as well as in his vehicle, along with an illegal firearm.
The drugs have been sent for testing and additional charges against Alcock are pending. He has been returned to jail to finish serving his current sentence.
The Uniform Gang Enforcement Team is CFSEU-BC's highly visible uniformed presence. These officers work to prevent ongoing violence using disruption and/or enforcement action through a visible, proactive presence in the community. By conducting active and high visibility enforcement, including on those individuals or groups that may be posing the greatest risk to public safety due to their involvement in gang or organized crime activity, UGET is able to contribute to increased public safety by getting these dangerous offenders off the streets.
"CFSEU-BC Uniform Gang Enforcement Team members provide a proactive law enforcement presence across the Lower Mainland every day to ensure public safety," says Sgt. Brenda Winpenny, Media Relations Officer for CFSEU-BC. "Risks, especially during the pandemic are always present, and require officers to be vigilant. We are glad that our officers were able to take this violent offender, along with a firearm, and potentially deadly drugs off the street before anyone was injured."