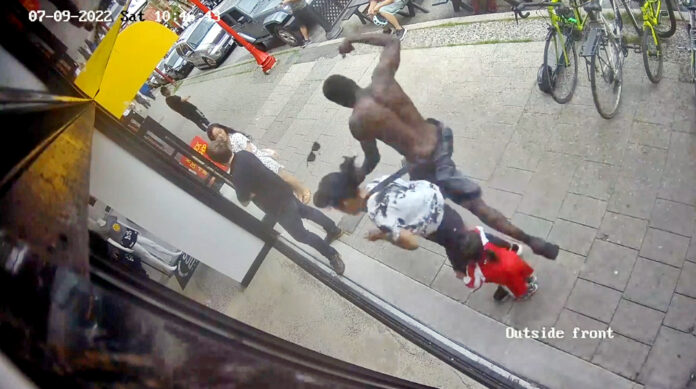 A man wanted B.C.-wide for allegedly assaulting a mom and her toddler is back in custody, after Vancouver Police officers arrested him in Chinatown on Thursday.
Shakwan Kelly, 27, was arrested shortly before 8 a.m. on Keefer Street, after a witness recognized him from media reports and flagged over a VPD officer who was patrolling the neighbourhood.
Kelly, who was wanted for failing to attend court following the alleged July 9 assault, was returned to jail.
The assault occurred after Vancouver Police responded to reports of a shirtless man walking in traffic and kicking cars around 10:45 a.m. on July 9. The suspect allegedly kicked one car so hard that it caused a dent in one of the doors.
As VPD officers responded, the suspect took off running through Chinatown, striking a 40-year-old mother and her toddler who were standing on the south side of East Pender Street, near Gore Avenue.
The mom was knocked to the ground and struck her head. The child suffered multiple scrapes.
VPD officers arrested the suspect moments later on Main Street.
Kelly was initially taken to jail by Vancouver Police, then released from custody after being charged with mischief, assault and obstructing a peace officer.
He failed to return for his scheduled court appearance on July 12 and was wanted B.C.-wide.
Vancouver Police continue to investigate Kelly's alleged involvement in a number of criminal offences that occurred the morning of July 9 in the Downtown Eastside and Chinatown.