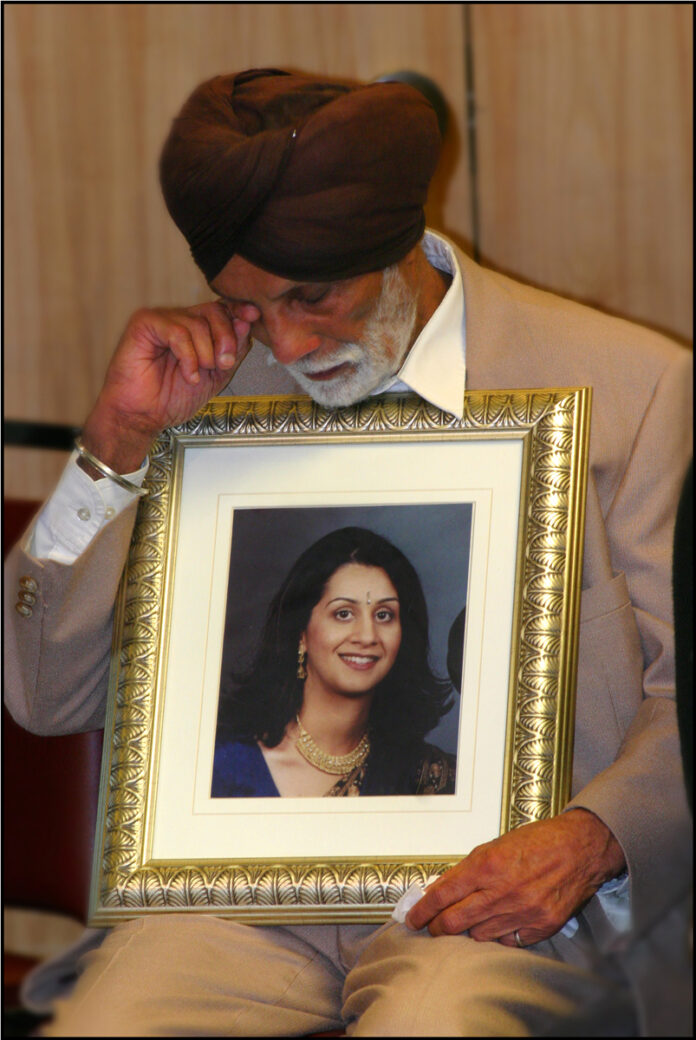 IN February 2011, B.C. Supreme Court Justice Heather Holmes found former physics teacher at Princess Margaret secondary school, Mukhtiar Panghali, then 38, guilty on one count of second-degree murder and one count of interference with a dead body in connection with the death of his wife of nine years, North Ridge elementary school teacher Manjit, 30, in October of 2006.
The following month, Holmes decided that Mukhtiar Panghali would have to serve 15 years of his life sentence before he would be eligible for parole. However, because he would get credit for the four years he had spent in pretrial custody, he would be able to apply for parole after 11 years.
The judge also imposed a sentence of 3 1/2 years, to run concurrently, for interfering with Manjit's remains.
Now 11 years later, the Parole Board of Canada has granted Muktiar Panghali six months of conditional day parole that will be served in a community correctional centre.
Panghali has participated in 50 escorted temporary absences and some unescorted leaves to visit family and there had been no issues, the Board noted.
The Board also said that reports indicated that he had expressed deep regret for his "regressive and rather archaic attitudes and beliefs about marriage and intimate relationships."
HOLMES, while finding Panghali guilty in 2011, said that the Crown's case was entirely circumstantial. But she noted that there was powerful evidence that Panghali was the person who killed Manjit. She pointed out that the fact that considerable force was used against a much smaller person shows that Panghali meant to cause her bodily harm or death.
The fact that Panghali lied to police about leaving the house after his wife went missing but was then seen on video surveillance at a gas station was proof of his guilt. She said that after she watched the video evidence from the trial, she was convinced the man was Panghali.
The fact that Panghali got his wife's cellphone after the time he claimed he last saw her, made Holmes conclude that Panghali took it from her after she returned from yoga.
To give readers a good sense of the whole case, here's what went down in court during the trial in 2010:
THE Crown theory was that Mukhtiar Panghali strangled his wife Manjit when she returned home from her pre-natal yoga class about 8 p.m. on October 18, 2006. She had left her Surrey home around 6:30 p.m. for the yoga class, leaving her daughter at home with her husband after he came home from the pub.
The Crown alleged that Panghali staged the discovery of her car. The seat was found to have been adjusted for a much larger driver than Manjit. He then burned her body on a beach in South Delta.
Manjit's charred remains were found along the DeltaPort Causeway five days after she disappeared. She was four months pregnant and DNA from her fetus proved that the father was Panghali.
Panghali was on trial for second-degree murder and interference with a dead body in the death of his wife.
Crown prosecutor Dennis Murray told B.C. Supreme Court Justice Heather Holmes, who heard the case without a jury, that the couple were in the "throes of some difficulty in their relationship."
Panghali's been in jail since his arrest in March of 2007 and appeared in court with his head and face shaved.
MURRAY told the court that although Panghali told police that he'd stayed home all night with his daughter, video from a gas station a few minutes from his house shows him buying a day-old newspaper and a lighter in the early morning of October 19. "The accused was not telling the truth," Murray said.
He said that Manjit's cellphone with Panghali's SIM card inside was used to make calls after her disappearance and the only way he could have done that was if he'd met her after her yoga class.
Panghali reported his missing wife to police 26 hours after she went missing and he gave various reasons to those who told him to call them earlier.
At the press conference at which he pleaded for information about his wife's disappearance, Panghali became angry when a reporter asked him why he had waited 26 hours to call police.
Murray said it was the Crown's theory that "the accused is responsible for the death of the deceased."
Defence counsel Joven Narwal cross-examining an expert on cellphones and cell towers about how he determined the location of Manjit's cellphone on October 18, made him admit that it is impossible to tell exactly where the phone was when calls were made to Panghali's home between 6:30 and 7 p.m. The expert also admitted that it was possible that the phone was stationary during the calls although he said that would be highly unlikely. The Crown had said that Manjit had made four calls from her cellphone to the couple's landline and phone records will show that she made them on her way to the yoga class.
THE court was shown a video of Panghali's interview with police, which took place two days before his wife's remains were discovered, in which he said that the couple fought often and that she hit him and once threw bleach in his eyes. But, he claimed, he remained calm when she was angry and that they had gone to counseling. She had left home on two occasions.
He also told police that his wife, Manjit, had a relationship with a former boyfriend and that she would dress up and go out for dinner and walks with him. She insisted it was just a friendship.
He said that his wife became upset when he had a beer because there was alcoholism in her family. He also spoke about domestic violence in her family.
Panghali said Manjit attempted suicide by cutting her wrists and once told him that she had taken pills to kill herself although she hadn't.
He also spoke of tensions in the family with his brother moving out of their place and his wife refusing to allow his parents to stay with them. He said there had been many squabbles between his mother and his wife.
RCMP Constable James Bennett told the court that Panghali told him that he waited 26 hours to report his wife missing because she often spent a night in a hotel or with a friend. Also, he believed he had to wait 24 hours before reporting a missing person.
FORENSIC pathologist Dr. Charles Lee testified that Manjit was likely strangled to death before her body was burned because there was no soot in her airway.
Dr. Lee works at Vancouver General Hospital and has testified many trials. He has performed some 3,000 autopsies. He provided information about the condition of the body and her fetus, which he said was 16 to 20 weeks old and was female.
Dr. Lee, during his cross-examination by the defence, admitted that this was definitely not a simple case.
Two RCMP officers testified that Manjit's car did not show any sign of forced entry and was parked legally.
A video of Panghali's interview at the Surrey RCMP detachment on October 23, 2006, was played in court in which Integrated Homicide Investigation Team Cpl. Paul Johnston told him that he was not under arrest though everyone was a suspect in Manjit's disappearance. Panghali expressed frustration at being told to repeat information about Manjit going missing because he said he had already told that to other officers. He felt insulted and walked out the front door before being convinced by Sgt. Bill Fordy to return. He then sobbed and talked loudly, saying he was going through hell.  Fordy informed Panghali that investigators were waiting for information from Delta Police and Panghali said he had heard on the radio that a body had been found in Delta.
Panghali called Johnston three times later. The first time, less than half an hour after the interview, he wanted to know if Johnston had really asked him if he'd killed his wife and Johnston said he had. The day he called twice to find out if he could help with the Delta police investigation and whether there was any new information about it.
A recording of the notification of Manjit's death to her next of kin on October 26, 2006, was also played in court. Panghali started crying when informed by Delta Police Sgt. Guy Leeson, who was accompanies by two other police officers, that the body found in Delta was that of his wife. His mother began wailing when Panghali informed her of the news in Punjabi.
He told the officers that he wanted to see her. When he was told that there was a fetus, Panghali started sobbing again. He was told that there had been substantial damage to her body.
FOOTAGE of a surveillance video at the Chevron Town Pantry on 64th Avenue at 176th Street in Cloverdale just before 1 a.m. on October 19, 2006, that was played in court showed a man in a bright orange shirt and a black turban entering the store and buying newspaper and a lighter. The forensic identification unit member in court did not identify the man as Panghali.
Four friends of the couple – Navdip and Roshan Gill, Susan Chahal and Sereena Uppal – testified that the man in the video was Mukhtiar or "M.P."
Defence lawyer Michael Tammen suggested that they knew about the video from media or Manjit's family and  noted that the video quality was so poor that one could only identify a dark-skinned man with facial hair and a turban.
The court also watched a video of a three-hour interview of Panghali on October 30, 2006, with two Delta police officers.
Panghali told Staff-Sgt. Harj Sidhu that he hadn't called his wife on her cellphone or at her home in the hours after she went missing and admitted that he should have called her.
He denied he had killed his wife and suggested two possible scenarios – that a man who had been spending a lot of time with his wife may have been responsible for her death, or she was in the wrong place at the wrong time.
ROGERS employee Sharon Barnes told the court that Manjit Panghali's cellphone was used with her husband, Manjit's subscriber identity module (SIM) card until January 22, 2007.
The phone was found with Panghali when the truck he was riding in was stopped in Richmond. His brother, Sukh, was driving the vehicle, Delta Police Sgt. Guy Leeson testified.
Manjit's cellphone with her SIM card was used on October 18, 2006, between 6:43 and 6:50 p.m. to make calls to her home phone number after she left home for her yoga class. The next day, her cellphone received a text message sent to her husband's cellphone number which meant that his SIM card was in Manjit's cellphone.
LAURA Hunger, who was Manjit's friend for 25 years, testified that Manjit's mother informed her of her disappearance on October 19, 2006, and then Hunger phoned Panghali.
But RCMP officer Bal Kandola, who was Manjit's best friend since grade 8, testified that Panghali had told her that he had called Hunger and asked her twice if he should hire a lawyer. Kandola said Panghali asked her the day after Manjit went missing to find out if she was with her. Kandola asked him to call the police. When Panghali asked her if he could wait until morning, she told him he couldn't and gave him the number for the Surrey RCMP. He then asked her how much he should tell the police and wanted to know if he should go with a lawyer.
Hunger and Kandola identified the man caught on a surveillance video at the Chevron Town Pantry on 64th Avenue at 176th Street in Cloverdale just before 1 a.m. on October 19, 2006, purchasing a lighter and a newspaper and corresponding stills as Mukhtiar Panghali.
Defence lawyer Michael Tammen noted that the video quality was poor and argued that they were going by what they had heard outside the court.
Two friends of Panghali, Gurinder Sidhu and Parmjit Sahota, testified that went to Brewster's Pub on October 19, 2006, after teaching at school. Panghali informed them that his wife had returned home after her yoga class and asked them whether he should call the police or wait.
Sidhu told the court that he suggested Panghali should wait and call her friends. He knew that Manjit had left her home in the past without informing her husband and he believed that police had to be informed about a missing person only after 24 hours.
But Sahota testified that he told Panghali to call the police. But because he knew about what had happened before, he finally agreed that it was alright to wait.
THE man who Mukhtiar Panghali claimed his wife Manjit was having an affair with testified in court that Manjit told him that she was pregnant, and that she had thrown her husband's brother out of her house.
Sukhwinder (Tony) Phunal, who worked with Manjit at the same store in the mid-1990s, met each other again at a wedding and started going out for lunch and walks. Phunal said their friendship was based on trust and honesty and that Manjit looked up to him as an older brother.  They discussed many things, including personal problems.
Manjit's sister, Jasmine Bhambra, told the court that when she asked her brother-in-law if the family should hire a private investigator, Panghali said nothing.
Bhambra said Panghali suggested that Manjit had left with "Tony" and that she was having an affair with him. She said that Panghali didn't want her to be there and didn't want to answer any more questions.
She said that Panghali went to her parents' house with his family on the Sunday after Manjit went missing and began "acting like he was the victim." Panghali said that Manjit tried to kill herself and that she threw bleach in his eyes.  Her older brother finally told the Panghalis to leave.
MURRAY in his closing arguments alleged that Mukhtiar Panghali made a series of mistakes in trying to cover up the murder of his wife Manjit.
He told the judge that there was a clear picture of deceit as he went on to list the alleged mistakes by the accused.
He said that the level of the intent to kill is demonstrated by the way in which Manjit had been strangled. Autopsy results show that the strangling was more destructive to her neck than what hanging would have resulted in. He said there had to be a reason to burn the body.
The prosecutor said that Manjit's diary showed that she was building her life around her and her children. She was killed at a time when she was exerting independence.
Murray said Panghali had told a number of people that he did not see his wife after she left her yoga class and there's solid evidence she had her cellphone with her. Yet cellphone records show Panghali used her cellphone with his SIM card. Police seized the cellphone three months later.
Murray said that Panghali told friends that he stayed home the night his wife went missing. Yet there is video evidence that he went to a gas station to buy a lighter and a newspaper.
The prosecutor accused Panghali of planting his wife's car in Whalley where he mistakenly thought her yoga class was held.
Murray said that Panghali called the B.C. Ambulance Service instead of police to create the impression that he was looking for her without taking the risk that someone was going to come to his house, because he didn't provide his name or address but only gave his wife's licence plate number.
Panghali called no witnesses in his defence.
DEFENCE lawyer Michael Tammen told the judge that that the Crown's theory was "incredibly convoluted" and that the absence of facts on what happened is "staggering."
He said it would be "unsafe for the court to conclude" that the man in the Chevron Town Pantry surveillance video and photos is Panghali.
Tammen said that the man in the video seemed to be wearing his turban in a style that was different from Panghali's. He said the witnesses who identified Panghali as the man shown in the video were biased and couldn't provide reasons to support their claims.
Tammen said that Panghali's call to the B.C. Ambulance Service the night his wife went missing showed that he was genuinely worried about her being in an accident. He said that Panghali didn't call the police because it wasn't the first time that his wife didn't come home.
He said that there was no physical evidence that Panghali killed his wife and neither was there any motive. He said: "There is simply no case of a second-degree murder here."