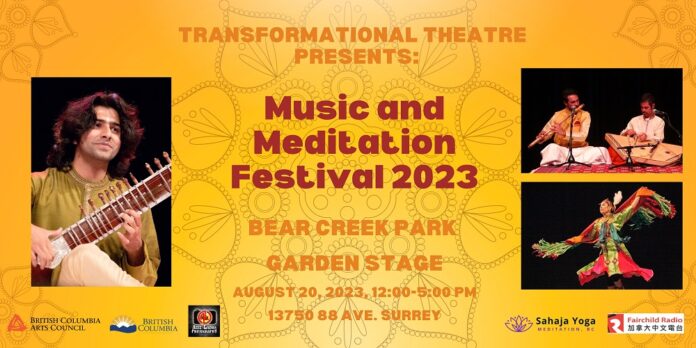 Sunday, August 20 at Bear Creek Park Garden Stage.
This free all-day event starts at noon on Sunday, August 20, at Bear Creek Park Garden Stage. Enjoy a music and meditation workshop by multi-instrumentalists The Nair Brothers accompanied by Akaaljot Dhadda on tabla, indigenous dance by the Wild Moccasin Dancers, Gurukul Sitar Ensemble featuring Sharanjeet Singh Mand, activities for children, dandiya dance, henna and more!!
Bring your blanket, picnic lunch, and family and enjoy meditative music, Indigenous drumming and dance, meditation workshops and creative activities for children. Participate in the Friendship Round Dance and Dandiya Dance on the lawn in the latter part of the day while enjoying the refreshing atmosphere of the gardens of Bear Creek Park.
This event is part of Transformational Theatre's Music, Movement and Meditation Festival 2023, which will also feature meditation and arts workshops until September 17.
For more information, call 778-683-2372 or email transformationaltheatre@gmail.com or go to www.transformationaltheatre.com.