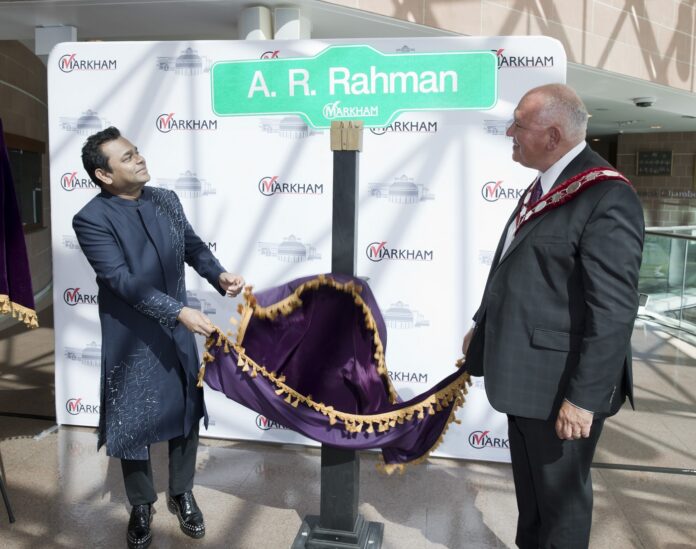 ON Saturday, August 27, the City of Markham in Ontario named a street in the Robinson Glen community after acclaimed international music director and lyricist, A.R. Rahman.
The multiple Academy Award and Grammy Award winner was in the Greater Toronto and Hamilton Area (GTHA) for a concert.
A.R. Rahman Street will be an East-West collector road located in the future Robinson Glen community northeast of Kennedy Road and Major Mackenzie Drive East.
"As Canada's most diverse city, the City of Markham is delighted to bestow this honour on an exceptionally talented and universally recognized entertainer," said Markham Mayor Frank Scarpitti. "A.R. Rahman has visited and performed in our region on several occasions and is beloved by many in our South Asian community."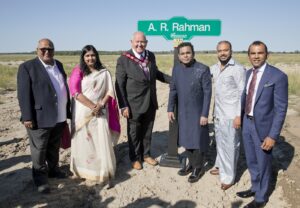 Markham has more than 356,000 residents and is the largest of nine communities in York Region. It is home to over 650 headquartered companies and more than 1,500 high tech and life science companies. It is a leader in attracting foreign direct investment with more than 234 foreign companies located in the City, according to Markham's website.
Rahman was also greeted by Ontario Premier Doug Ford and a raft of prominent politicians at the Legislative Assembly of Ontario in Toronto.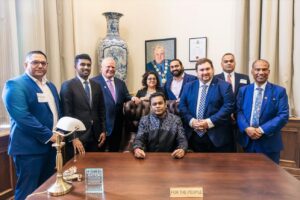 Rahman said in a statement: "I never imagined this ever in my life. I am very grateful to all of you."
He said: "The name A.R. Rahman is not mine. It means merciful. The merciful is the quality of the common God we all have and one can only be the servant of merciful. So let the name bring peace, prosperity, happiness and health to all people living in Canada. God bless you all."
Rahman added: "I feel like this gives me immense responsibility to do much more and be inspiring; not to get tired and not to retire…yet. Even if I get tired I'll remember that I have more things to do, more people to connect, more bridges to cross."
The City of Markham noted in a press release: "Allah-Rakha Rahman, also known as A.R. Rahman is a universally celebrated music composer whose extensive body of work for film and stage earned him the nickname "the Mozart of Madras." The multiple Grammy and Academy Award winner is best known for producing the soundtrack for the 2008 hit film, Slumdog Millionaire. A.R. Rahman has also received various international humanitarian awards for causes dear to him.
"In 2009, A.R. Rahman was included in Time Magazine's list of the world's 100 most influential people and still remains a top music personality across borders for more than three decades. He has been awarded one of India's highest civilian honours and has famously composed India's national song on the 50th Anniversary of India's independence. The original track he composed also holds two Guinness World Records for being the song performed in the most languages. For his invaluable contribution to music, he has been awarded numerous honorary doctorates from a selection of world-renowned universities."