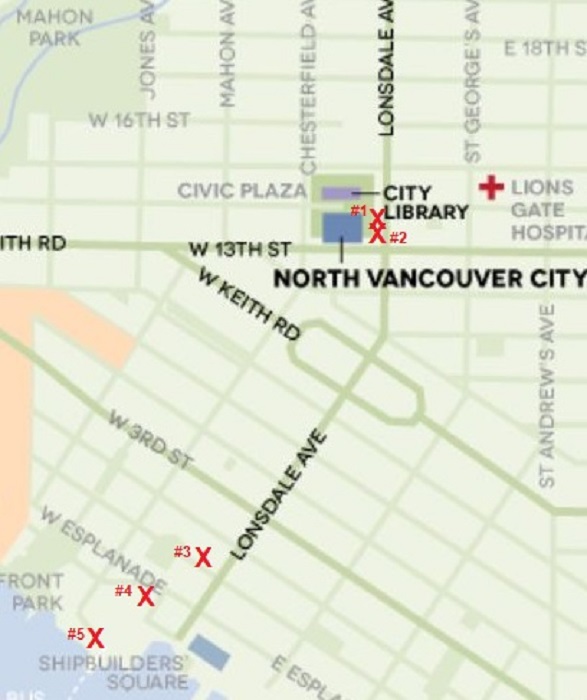 NORTH Vancouver RCMP are seeking witnesses to a series of arsons that occurred between 12:30 a.m. and 6:30 p.m. on Thursday, July 15. One male suspect has been arrested in the case, and investigators are hoping to identify witnesses, particularly three witnesses who helped extinguish the first fire.
Frontline officers arrested a suspect near the scene of the fifth fire. While each fire caused varying degrees of property damage, thankfully no individuals were harmed as a result, police said..
Investigators are now appealing to witnesses to come forward, including anyone who may have surveillance footage, in the hope of furthering the investigation.
The series of fires:
#1
Approximately 12:50 a.m., July 15
– Newspaper box on Lonsdale Avenue at 14 Street. (Investigators are hoping to identify three witnesses who were at the scene around the time of this fire.)
#2
Approximately 12:55 a.m., July 15
– Garbage can on Lonsdale Avenue at 14 Street.
#3
Approximately 5:30 p.m., July 15
– Dumpster in the alley West of Lonsdale Avenue between West 1 Street and West 2 Street.
#4
Approximately 6 p.m., July 15
– Dumpster in the underground parkade at 150 West Esplanade.
#5
Approximately 6:45 p.m., July 15
– Air conditioner unit outside a building at 123 Carrie Cates Court
Anyone with information or surveillance footage is asked to contact Cpl. Adrian Bissenden of the North Vancouver RCMP Major Crimes unit at 604-969-7572.