June 20, 1932- October 2, 2018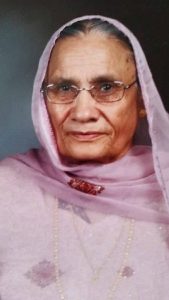 Our dear mother, wife of the late Gian Singh Sandhu from Rurka Kallan, passed away peacefully in her sleep. Born in Dhamot she immigrated to Canada in 1968 and lived in Vancouver.
Gurmail Kaur leaves behind her sons Jasbir, Bhovinder, (deceased) Amarjit, Narinder and, respectively, their wives Parmjit, Kashmir, Hardeep, Harjit and grandchildren.
Funeral services will be held on Sunday, October 7 at 10 a.m. at Five Rivers Funeral Home, 7410 Hopcot Road, Delta.
For additional information contact:
Jasbir at 778-235-6325
Bhovinder at 604-327-7535
Amarjit at 604-537-6296
Narinder at 604-783-8643