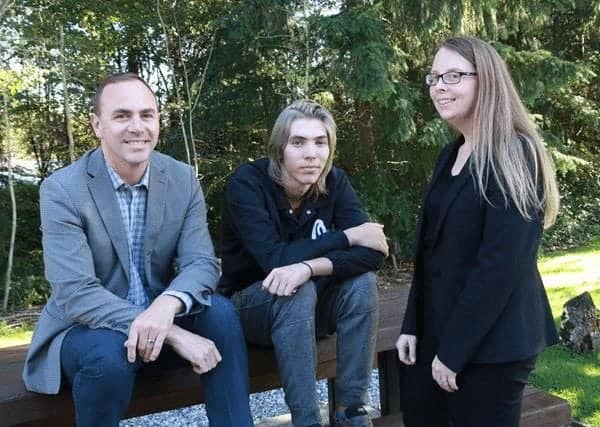 UNITED Way of the Lower Mainland has committed $100,000 to the Abbotsford gang-prevention program In It Together, helping keep the program open for local youth.
The investment was shared at a joint announcement on Thursday organized by United Way of the Lower Mainland and Abbotsford Community Services, operator of the In It Together program.
"United Way's commitment means we did not have to close our doors this weekend," said Alison Gutrath, Community Coordinator for the In It Together program. "This investment will ensure youth at risk of gang involvement – and their families – get the support they need, while we continue to seek additional supports to keep our program operating during our funding gap."
"Child vulnerability and gang violence are unignorable issues in Abbotsford," added Jeff Calbick, Chief Operating Officer with United Way of the Lower Mainland. "In It Together has generated great results from its collaborative, community-led approach – which is why we're committing $100,000 to help keep the program open and ensure youth maintain life-saving connections in their community."
How the program prevents gang violence
In It Together, formally known as the Abbotsford Comprehensive Youth Gang Reduction Program, is a collaborative initiative of the Youth Resource Centre and South Asian Community Resource Office at Abbotsford Community Services, and has Abbotsford Police Department, John Howard Society and Abbotsford School District as project partners.
The program provides individual case management, youth outreach, parent and youth groups, recreation, essential skills and counselling for youth and their families who are at high risk of being involved in organized crime and gangs.
Funding expiry, community response
Funding for In It Together, granted October 2013 from the federal Ministry of Public Safety, ended on September 30. As part of its commitment to support community-led initiatives tackling unignorable issues in the Fraser Valley, United Way stepped forward with a $100,000 investment. The announcement exemplifies United Way's responsive way of working alongside established community agencies like Abbotsford Community Services.
United Way's commitment comes alongside support from Abbotsford residents, including members of the South Asian community, who raised over $15,000 at a community fundraiser on September 30. Staff at Abbotsford Community Services will continue to seek the approximate $300,000 in funding still required to keep the In It Together program running for an additional six months before government funding is available again.
Facts and Figures
Gang activity has a profound impact on the lives of youth and their families in Abbotsford.
In 2017, Abbotsford-Mission had the 2nd highest homicide rate in Canada, per capita
In 2017, there were ten homicides in Abbotsford, seven of which were gang-related
In It Together is breaking the cycle of gang involvement for Abbotsford Youth. Successes include:
427 youth participants (ages 12 – 30) supported since April 1, 2014
Over 1,100 parents, grandparents, and guardians of youth at-risk of gangs supported
Over 95% engagement rate (participants become involved and stay involved long term)
54% decrease in total risk scores after 20 months
32% decrease in education, training and employment related risk factors
31% decrease in negative attitudes towards offending
The profile of current program participants includes:
77% South Asian youth, 20% Indigenous youth, and 3% other ethnic minorities
62 (45%) youth currently involved in gang activity (including associated with gang members, close family of a gang member, has lost a sibling to gang shooting/violence, dealing drugs and using hard drugs (heroine, fentanyl, cocaine, etc.)
53 (38%) youth at high risk of involvement
24 (17%) youth at moderate risk of involvement
In 2017 United Way of the Lower Mainland joined with United Way Fraser Valley.
United Way now serves the Lower Mainland, Sea to Sky corridor, Sunshine Coast and the Fraser Valley from Abbotsford to Boston Bar.
Based on its 2017 fundraising campaign, United Way of the Lower Mainland committed over $780,000 to the Fraser Valley in 2018/19. All funds raised from the Fraser Valley region have been reinvested back into the Fraser Valley.
This $100,000 announcement to In It Together is in addition to the $780,000 already committed to the Fraser Valley in 2018/19.
Across all local communities served, including the Fraser Valley and Abbotsford, United Way of the Lower Mainland is investing $32.4 million in 2018/19.