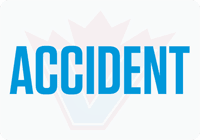 AN Operation Red Nose volunteer crew working in tandem were struck from behind by a suspected impaired driver, while providing a sober ride home to a small group of clients on New Year's Eve in Kamloops.
On December 31, at 11:57 p.m., Kamloops RCMP received a 911 emergency call of a motor vehicle collision along East Trans-Canada Highway near Grand Boulevard. Frontline officers determined that the driver of a black Dodge Ram 1500 pickup truck struck a green Subaru Forester and a blue Ford Focus from behind, prior to crossing into the oncoming lanes before leaving the highway.
The driver of the Dodge Ram pickup truck, which came to final rest down an embankment, was entrapped and required extrication by emergency crews. While observing and interacting with the driver at the scene, the investigating officer detected signs and symptoms of alcohol intoxication from the man and subsequently provided him with a demand.
The 24-year-old Kamloops man, who sustained non-life-threatening injuries in the crash, refused to provide a breath sample. He was issued a 90-day Immediate Roadside Prohibition and charged with drive without due care and attention under the Provincial Motor Vehicle Act.
"Our investigation has revealed that both the sedans were occupied by three Operation Red Nose volunteers and three clients being escorted home," says Cpl. Jesse O'Donaghey, spokesman for the RCMP Southeast District. "This incident serves as a somber reminder to find a safe and sober ride home. Thankfully no one was seriously injured as a result of this entirely preventable collision, which could have had a deadly outcome."
If you witnessed this crash and have not yet spoken to police you are asked to call the Kamloops RCMP at 250-828-3000.