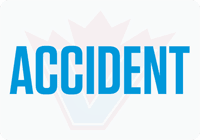 SURREY RCMP frontline members and Municipal Traffic Section members are currently at 88th Avenue and 164th Street where a pedestrian had been struck by a vehicle. Police received a call at 8:53 p.m. on Thursday about the incident.
The driver of the vehicle has remained on scene and is cooperating with the investigation. No determination into the cause of the crash has been made, however, alcohol and drugs have been ruled out. The pedestrian has been transported to hospital and is in serious condition.
Police said 88th Avenue was shut down to traffic between 162nd Street and 164th Street.