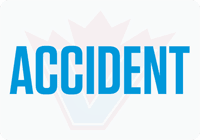 AT approximately 5:23 a.m. on October 29, Richmond RCMP attended the 11000-block of Bridgeport Road for a hit-and-run involving a pedestrian.
According to the pedestrian, as he was crossing Bridgeport Road at Simpson Road, a vehicle allegedly pulled out of a parking lot and struck him, causing him to fall. The pedestrian did not get a good look at the vehicle, however, a witness described the vehicle as a gray SUV.
Neither the pedestrian nor the witness were able to obtain a license plate.
The pedestrian was transported to a local area hospital where he was treated and released.
"As a driver if you are involved in any form of a collision, you are required to stop and provide your information to the other individuals involved," said Cpl. Adriana O'Malley, Richmond RCMP Media Relations Officer, on Wednesday. "This collision took place in the early hours of the morning when traffic would have been fairly light. If you were in the area or are the driver of the gray SUV that exited the parking lot in the 11000-block of Bridgeport Road, please contact us."
Anyone who may have witnessed, or has information regarding this file, is asked to call Richmond RCMP at 604-278-1212 and quote file number 2021-29560. Should you wish to remain anonymous, contact Crime Stoppers by phone at 1-800-222-TIPS (8477) or visit them online at www.solvecrime.ca.