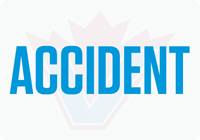 SHORTLY after 4 p.m. on September 1, Richmond RCMP frontline officers responded to the area of Blundell Road near Minoru Boulevard after reports of a downed motorcyclist.
The motorcycle operator, a 63-year-old male from Richmond, was located some distance away from his blue Honda. He received emergency care at the scene and was transported to hospital with life-threatening injuries.
The surrounding area was cordoned off for several hours while police conducted their investigation.
The Richmond RCMP Criminal Collision Investigation Team (CCIT) have taken conduct of the investigation and received assistance from the LMD Integrated Collision Analysis and Reconstruction Service (ICARS).
Alcohol or speed are not believed to be factors in this investigation.
Anyone who was in the area between 3:50 p.m. and 4 p.m. and may have witnessed the incident, or have dash cam footage, is asked to call Richmond RCMP at 604-278-1212 and quote file number 2023-27770.
Should you wish to remain anonymous, you are requested to contact Crimestoppers by phone at 1-800-222-TIPS (8477) or visit them online at www.solvecrime.ca.