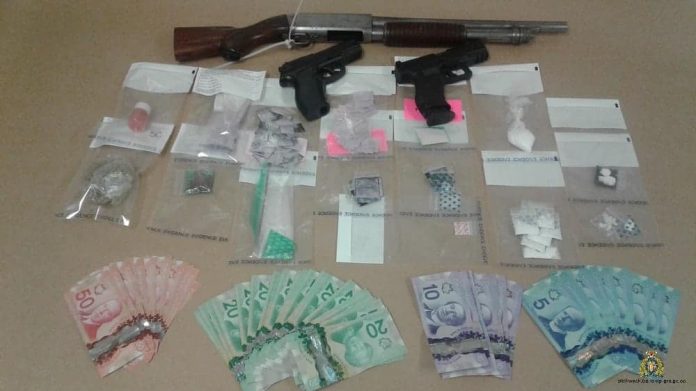 COREY Richard Emery, 31, of Chilliwack faces charges after being arrested during a RCMP drug investigation.
Shortly after noon on May 23, the Chilliwack RCMP Prolific Offender Suppression Team (POST) was conducting covert surveillance of a residence in the 9300-block of Fletcher Street. As officers were collecting evidence, a man allegedly exited the residence and fired a handgun at a vehicle, which left from the scene.
The individual was immediately taken into custody by police. The vehicle and its occupant were quickly located in the 4600-block of Reese Avenue by General Duty (GD) officers.
Around 6:30 p.m. investigators from POST supported by the Chilliwack Crime Reduction Unit (CRU) executed a Controlled Drug and Substance Act (CDSA) search warrant of the residence.
Pellet pistols, a loaded sawed-off shotgun, suspected opioids, articles associated with drug trafficking, and cash were seized by officers during the search.
Emery is charged with assault with a weapon, possession of a weapon for a dangerous purpose, and mischief under $5,000. Mr. Emery remains in custody pending a court appearance in June.
Following a thorough examination of evidence collected, POST officers will be submitting all circumstances of the investigation in a report to the BC Prosecution Service for their assessment of CDSA and further Criminal Code charges.
"Weapons and violence are often linked with drug trafficking. Chilliwack RCMP officers are dedicated to preventing these threats from reaching the streets of our community," said Cpl. Mike Rail spokesperson for the Upper Fraser Valley Regional Detachment. "Fortunately no one was injured during the incident."
RCMP remind everyone who witnesses anything they believe to be suspicious in nature to contact the Chilliwack RCMP at 604-792-4611 or, should you wish to remain anonymous, call Crime Stoppers at 1-800-222-8477 (TIPS).