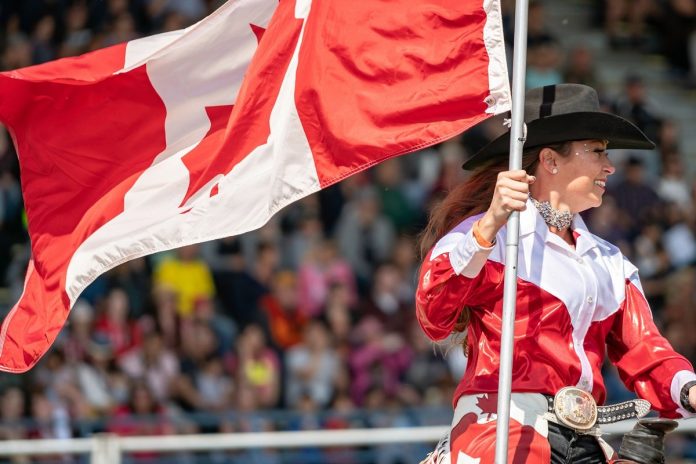 SURREY Canada Day, presented by Coast Capital Savings, announced today the lineup of new attractions guests can expect at this year's free annual event.   Returning to the Bill Reid Millennium Amphitheatre in Cloverdale, Canada Day celebrations begin at 10 a.m. on Monday, July 1 and this year's celebrations are expected to be even bigger than the last.
"Surrey's Canada Day celebration is renowned for its enthusiastic displays of national pride and great entertainment," said Surrey Mayor Doug McCallum. "With the expanded line up this year, Surrey's Canada Day will be the destination to celebrate our country's birthday."
Attendees are invited to grab their best country hat, boots and denim for the new Cloverdale Rodeo Zone. Located inside the Cloverdale Agriplex, the area will offer country-themed activities including games, bull riding, an inflatable corn maze, axe throwing, western food vendors and live country music performances on the Rodeo Stage – featuring local Canadian Country headliner Dave Hartney. Additionally, the Rodeo Zone will feature a Summer Market offering artisan goods from over 20 local vendors.
In partnership with the Canucks Autism Network, this year's Surrey Canada Day will also provide a Sensory Friendly Space. Sensory friendly spaces are designated areas that have reduced input from the sensory environment.  This includes decreased levels of lighting, sound and smell. Particularly helpful for individuals with autism, or anyone who is overwhelmed in busy public spaces, this space offers a wide range of elements to support relaxation, including comfortable seating, sensory toys, books, games and noise-cancelling headphones.
For more information on the Canada Day Sensory Friendly Space, visit surrey.ca/canadaday/info.
"We are thrilled to provide a sensory friendly space at this year's Canada Day. It's a fantastic opportunity for us to encourage inclusiveness and increase accessibility for all of our residents," said McCallum. "We thank the Canucks Autism Network for their partnership in creating this welcome addition to Surrey's Canada Day."
New to the amphitheatre, attendees can test their reflexes at the NHL feature in the Sports Zone, participate in cedar brushing in the Indigenous Zone and take a ride down the 200 ft zip line. These new attractions add to this year's event roster, which includes 15 amusement rides, four stages of entertainment, and over 35 food trucks.
Surrey Canada Day takes place on Monday, July 1 at the Bill Reid Millennium Amphitheatre, located at 176th Street and 64th Avenue in Cloverdale. Doors open at 10 a.m. with the grand fireworks finale, presented by Guildford Town Centre, at 10:30 p.m.
Learn more at www.surrey.ca/canadaday.