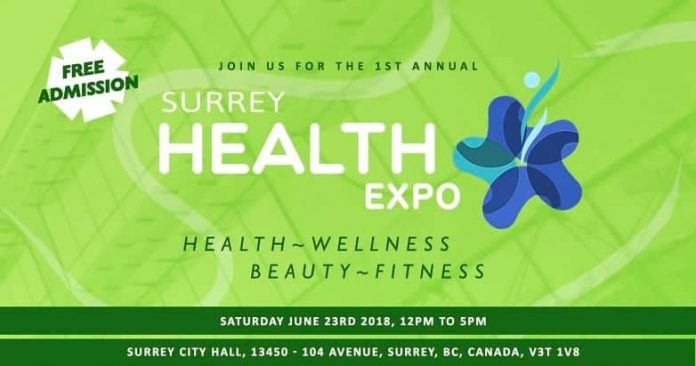 AFTER many years of producing health-focused trade shows specifically for the South Asian community in Surrey, local businesswoman Rina Gill is finally executing her broader vision of launching Surrey's first mainstream trade show focusing on the health, wellness, beauty and fitness industry. This soft launch event will cater to the community as a whole.
As we all know, the City of Surrey is growing rapidly. According to the 2016 Census, Surrey's population is 517,887 with approximately 1,000 new residents moving into the city every month. Many people are experiencing busy lives with high stress levels which result in poor diet, lack of exercise, sleep deprivation, etc. These bad habits can eventually lead
to serious medical conditions as well as emotional and mental disorders.
The City of Surrey is already committed to promoting well-being and social change through their Healthy Communities initiative: it's all part of the process towards social development for all Surrey residents.
Hence the reason organizing the event in Surrey at Surrey City Hall made absolute sense to Rina. To this date, an event of this magnitude has not taken place in Surrey. So, an enormous amount of support on all levels throughout the community will be necessary in order to make this event a huge success and help it grow annually.
This is an opportunity to bring the entire community and all ethnicities together under one roof to explore the world of health, wellness, beauty and fitness. There will also be a diverse group of vendors, advertisers, media sponsors and attendees. Good health is important for everybody regardless of age, gender and ethnicity. The Surrey Health Expo initiative is meant to be proactive and will take place annually with a few smaller events in between.
The 1st Annual Surrey Health Expo will be taking place on Saturday, June 23 from 12-5 p.m. at Surrey City Hall with free admission. Family fun for everyone!
In celebration of this launch event, there will be free parking for Surrey Health Expo attendees on a first come, first serve basis, courtesy of the City of Surrey.
What to expect: Industry experts on-site, free health testing, product demonstrations, free product sampling, free exercise / dance classes, free workshops, free beauty makeovers, free massages, play area for children, adult obstacle course, tons of prize giveaways, food trucks and stalls, farmers market and flea market.
Have a chance to win $10,000 worth of prize giveaways and pick up a free copy of the inaugural issue – Surrey Health magazine.
For more information about the Surrey Health Expo or to become a vendor, advertiser, and / or sponsor, contact the organizer Rina Gill at 778-688-4973 or email: rina@thehypeadagency.com