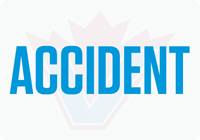 SURREY RCMP are advising the public of closures of southbound lanes of the 5400-block of King George Boulevard.
On December 31 at approximately 11:35 p.m., Surrey RCMP responded to a single vehicle collision on King George Boulevard.  The vehicle was travelling southbound and ended up striking a light standard and some trees.
The collision and damage to the light standard has resulted in the closure of both southbound lanes of travel, pending the investigation, removal of the vehicle and repair of the light. Southbound traffic on King George Boulevard from 56 Avenue has been closed.
Surrey RCMP are advising that there will be traffic congestion in the area until the damage has been fixed, and local area buses will be re-routed.  At this time of the investigation, alcohol does not appear to be a factor.
If you were in the area and have information, you are requested to contact Surrey RCMP. Anyone with more information, including dash cam footage around the area, is asked to contact the Surrey RCMP at 604-599-0502.