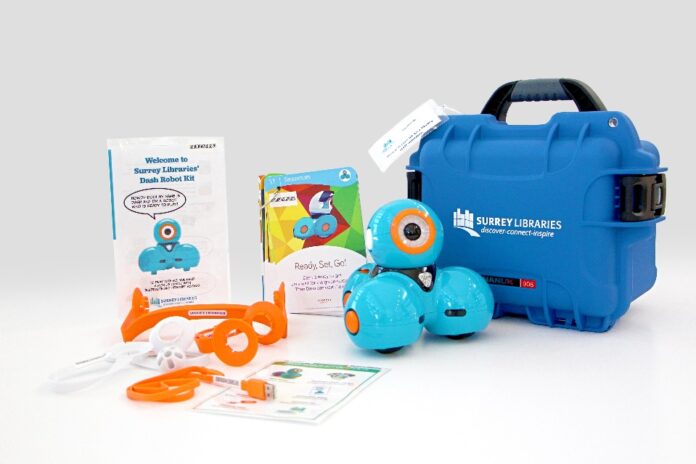 WHAT could be better to help children learn about coding than through play? With the addition of 90 Dash Robot Kits to its collection, Surrey Libraries says it is excited to let children do just that. Children can explore Dash's sounds, lights, and movements before completing one of hundreds of coding adventures that teach creative problem-solving.
"The addition of Dash to the Library's collection is a great way to help children learn coding basics and support STEM learning in our community," said Chloe Humphreys, youth services librarian at Surrey Libraries. "We're excited to make these robots available for Surrey families to borrow, increasing their access to technology."
Children do not need any previous coding experience to play with Dash. They simply download free apps onto their mobile device to activate the robot and start having fun. Dash robots put the power of play into children's hands as they make the robots move, respond to voice commands, sing, and interact with the world around them. Each kit offers many hours and days of continuous learning.
The Dash Robot Kits are available to borrow for three weeks to any library member. People can also place holds on kits and pick them up at any one of Surrey Libraries' 10 branches.
An initial grant from the S.M. Blair Family Foundation allowed Surrey Libraries to pilot the Dash collection and a subsequent sponsorship from Envision Financial, a division of First West Credit Union, expanded the Dash collection substantially and made STEM learning accessible to many more in Surrey.
"We're very grateful for the generous support this project has received from both Envision Financial and the S.M. Blair Family Foundation," said Surinder Bhogal, Chief Librarian at Surrey Libraries. "It's partnerships like these that help the Library fulfil its mission to connect people, spark curiosity, and inspire learning."
"As a financial cooperative, Envision Financial believes in the power of partnership to impact positive social change and help communities thrive," said Dave Lanphear, President of Envision Financial. "Our collaboration with Surrey Libraries to bring Dash to kids and help them learn to code while having fun will do just that."
For more information on the Dash Robot Kits visit surreylibraries.ca/dash-robots or check out this video.