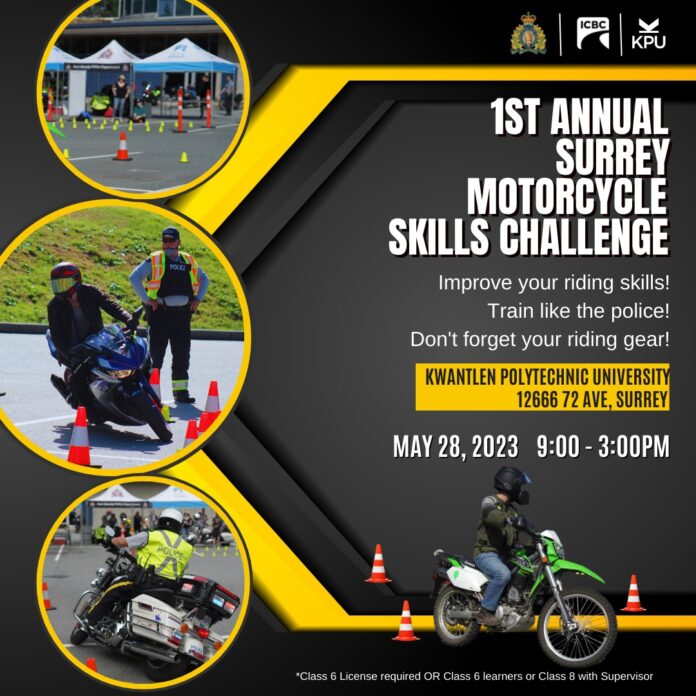 IN the past six weeks, in Surrey, there have been three fatal collisions involving motorcyclists. The number of fatalities in a short time is very concerning, says Surrey RCMP.
They add that everyone has a role to play in sharing the road safely. It is important that drivers pay attention, especially when changing lanes, and that riders leave room to ensure they are seen.
Surrey RCMP in partnership with ICBC is hosting a Motorcycle Skills Challenge where participants will have the opportunity to navigate a skills course. Police motorcycle riders will be there to provide tips and guidance to riders and help both new and experienced riders to develop valuable skills to stay safe on the roads.
* When: May 28, 9 a.m. to 3 p.m.
* Where: Kwantlen Polytechnic University, 12666 82 Avenue in the parking lot
* Who: Open to all riders with a class 6 license, class 6 learners or class 8 with supervisor
* Requirements: All riders are required to wear proper safety equipment and bring their own insured street legal motorcycle.
"We are encouraging motorcyclists of all abilities to come and put their skills to the test, says," Sgt. Jason Barrett, Surrey RCMP Traffic Services. "This is the place to push your limits, make mistakes and learn in a controlled environment with the guidance experienced motorcycle officers."
May 16-22 is also National Road Safety Week. This year's theme is Take the Wheel, a popular expression that not only means to drive but also to take control. Surrey RCMP want to remind people that they are in control of their driving and that they should be adopting safe driving behaviours to keep themselves, their passengers, other drivers, cyclists, and pedestrians safe.
Road safety information can be found at ICBC Road Safety.