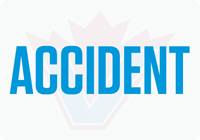 ON Thursday at 1:15 p.m., Abbotsford Emergency Services responded to a serious collision at Ware Street and Bourquin Crescent involving a vehicle and two pedestrians.
Emergency service workers located two pedestrians who had been struck by a vehicle suffering life-threatening injuries. The 88-year-old male and the 85-year-old female were transported to hospital. The driver and passenger of the vehicle were quite shaken, but were uninjured. They remained on scene and are cooperating with police.
The intersection at Ware Street and Bourquin Crescent was closed to all traffic while the Integrated Collision Analysis Reconstruction Service (ICARS) assisted with the investigation. The road closure is now open to all traffic.
Abbotsford Police are seeking witnesses and dashcam footage from those who may have been at the location just before the collision. If you can assist, you are requested to call the Abbotsford Police Department at 604-859-5225.