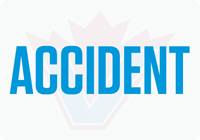 SHORTLY after 3 p.m. on February 9, Richmond RCMP frontline officers responded to the 12200-block of Cambie Road after reports of two teenaged pedestrians being struck by an early 2000 model year Toyota.
The two female pedestrians, both 15 years of age, were transported to hospital. One sustained serious injury and the other sustained critical injuries.
The driver of the vehicle, a 17-year old female, was uninjured. She remained at scene and was cooperative with investigators.
Both pedestrians were not on the roadway during the collision. All persons involved are from Richmond.
Neither alcohol or drugs are believed to be contributing factors in this collision.
Richmond RCMP's Criminal Collision Investigation Team (CCIT) has taken conduct of this investigation along with assistance from the Lower Mainland Integrated Collision Analysis and Reconstruction Service (ICARS).
Richmond RCMP are requesting the public for any information or dashcam footage on this incident to contact them at 604-278-1212 and quote file #2023-4296