THE Maan family of Surrey on Wednesday donated toys they collected around the Lower Mainland over the past number of weeks to The Salvation Army to be given out at their 'Toy Shop' for families who cannot afford gifts this Christmas.
Uncle Vinny's Toy Drive started in memory of Vinny Maan, who passed away three years ago at the age of 35. He loved the Christmas season and spending time with his nieces and nephews. Knowing how much he liked to share gifts the family decided to start a toy drive in his name.
This toy drive allows the family to not only give back to the community by giving gifts to The Salvation Army Toy Shop, which gives families the chance to pick out toys for their children based on their preferences who otherwise would not be able to afford presents, but also gives the family a chance to celebrate Vinny's life in what has otherwise been a difficult time.

The Salvation Army in Vancouver serves over 1,000 families each year providing toys, grocery gift cards and food items for a Christmas meal.
It says that overall, it's seeing a 30% increase in demand for itsr services across Canada, and it wouldn't be able to meet it without the help of its generous donors across communities, including Uncle Vinny's Toy Drive.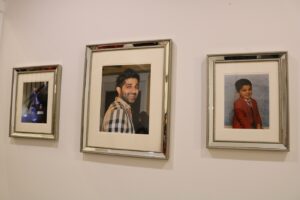 About 1,580 toys were collected this year and more are expected to be delivered soon.
Donations were collected in local businesses around the Lower Mainland in Surrey, Abbotsford, Vancouver, Langley, Richmond, Delta, New Westminster, Coquitlam, and Maple Ridge.
Toys were collected for children of all ages — from newborns to teenagers.
A toy drive is also simultaneously held in Ontario where their sister Sandy lives.
Those who would still like to make a donation directly to The Salvation Army this Christmas season can drop off cash, cheque or tap their credit card at its Christmas Kettles or visit  salvationarmy.ca.