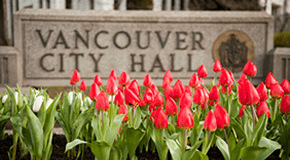 Random order list to be drawn September 21
A total of 158 candidates have filed their nomination documents to run in the 2018 Vancouver city election, seeking an elected local government position for the next four years.
The following candidates submitted nomination papers:
Candidates for Mayor
(One to be elected)
AUBICHON, Maynard
BREMNER, Hector (YES Vancouver)
BUDAY, Gölök Z
CASSIDY, Sean
CHAN, Ping
CHEN, David (ProVancouver)
FOGAL, Connie (IDEA Vancouver)
HANSEN, Mike
HARDING, Fred (VANCOUVER 1st)
KAISER, Sophia Cherryes Kaur
LAMARCHE, Jason
LE ROUGETEL, Katy
LY, Tim
MASSEY, Lawrence
ROLLERGIRL
SHOTTHA, Satie
SIM, Ken (NPA)
STEWART, Kennedy
SYLVESTER, Shauna
YANO, John
YOUNG, Wai (Coalition Vancouver)
Candidates for Councillor
(10 to be elected)
ALM, Kelly
BAINS, Brinder (YES Vancouver)
BASRA, Nycki (VANCOUVER 1st)
BHANDAL, Taqdir Kaur
BLIGH, Rebecca (NPA)
BLYTH, Sarah
BOYLE, Christine (OneCity)
BUCHANAN, Barbara
CARDONA, Diego (Vision Vancouver)
CARR, Adriane (GREEN)
CAUDWELL, Justin
CHAN, Glynnis (YES Vancouver)
CHARKO, Ken (Coalition Vancouver)
CHERNEN, Glen (Coalition Vancouver)
COOK, Graham
COPELAND, Cord "Ted"
CRELLIN, Breton (ProVancouver)
CROOK, Adrian
DE GENOVA, Melissa (NPA)
DEAL, Heather (Vision Vancouver)
DOMINATO, Lisa (NPA)
EL-RAYES, Hamdy
EVANS, Catherine (Vision Vancouver)
FALLS, Larry
FRANSON, Marlo
FRY, Pete (GREEN)
FU, Hsin-Chen
GOODRICH, Justin P (NPA)
GRANT, Wade
GREWAL, David (NPA)
HARDWICK, Colleen (NPA)
HUGHES, Ashley
JOHL, Jesse (VANCOUVER 1st)
KENNEDY, Gordon T
KHAN, Abubakar
KIRBY-YUNG, Sarah (NPA)
KOUTALIANOS, Anastasia
KRISTIANSEN, Lisa (ProVancouver)
LI, Morning (Coalition Vancouver)
LIN, James (Coalition Vancouver)
LOW, Ken (VANCOUVER 1st)
MALUSA, John (VANCOUVER 1st)
MCDOWELL, Rob
MIEDZYGORSKI, Herschel
MOLLINEAUX, Michelle (VANCOUVER 1st)
MUSSIO, Penny (Coalition Vancouver)
NOBLE, Penny
O'KEEFE, Derrick (COPE)
OSTLER, Stephanie (YES Vancouver)
PAZ, Tanya (Vision Vancouver)
PEROSA, Elishia (VANCOUVER 1st)
PETA, Franco (Coalition Vancouver)
PORTER, Elke
QUIMPO, Jojo (NPA)
RAMDEEN, Katherine
RAUNET, Francoise
RAZA, Mirza (ProVancouver)
REZEL, Rohana (ProVancouver)
ROBERTS, Anne (COPE)
SHUM, Erin
SPARK, John
SPIKE
SWANSON, Jean (COPE)
TANG, Phyllis (YES Vancouver)
TAYLOR, Elizabeth (VANCOUVER 1st)
VIRDI, Jaspreet (YES Vancouver)
WIEBE, Michael (GREEN)
WONG, David HT (GREEN)
XIE, Jason (Coalition Vancouver)
YAN, Brandon 甄念本 (OneCity)
ZHANG, Wei Qiao (Vision Vancouver)
Candidates for Park Commissioner
(Seven to be elected)
BARKER, Tricia (NPA)
BEESLA, Pall (NPA)
CHANG, Ray En-Jui (Coalition Vancouver)
COPPING, Ann-Marie (NPA)
COUPAR, John (NPA)
CRAWFORD, Casey (NPA)
CUEVAS, Victor
DEMERS, Dave (GREEN)
DUMONT, Camil (GREEN)
EDGELOW, Greg (ProVancouver)
FUOCO, Chris (VANCOUVER 1st)
GALLOWAY, Jason (Coalition Vancouver)
GIESBRECHT, Gwen (COPE)
GOLDENCHILD, Ray (VANCOUVER 1st)
HAMILTON, Jamie Lee (IDEA Vancouver)
HAUGEN, Margaret  (IDEA Vancouver)
HEBA, Leo (YES Vancouver)
HURLBUT, Rick (ProVancouver)
IRWIN, John (COPE)
JOHL, Yogi (VANCOUVER 1st)
KAGIS, Mathew (Work Less Party)
MACKINNON, Stuart (GREEN)
MALDONADO, Juan Carlos (Coalition Vancouver)
MCGARRIGLE, Kathy (NPA)
NEMETZ, Steven L
RELPH, Cliff
ROSSETTI, Massimo (VANCOUVER 1st)
SANGHA, Taran Kaur (Coalition Vancouver)
SHIVJI, Shamim (Vision Vancouver)
SIU, Winnie (Coalition Vancouver)
YEUNG, Jennifer (VANCOUVER 1st)
ZARUDINA, Olga (Coalition Vancouver)
ZUBKO, Cameron (Vision Vancouver)
Candidates for School Trustee
(Nine to be elected)
ALM, Kelly
ANDERSON, BK Barbara (IDEA Vancouver)
ARNOLD, Erin (Vision Vancouver)
BALLANTYNE, Fraser (NPA)
BARONET, Bruno (VANCOUVER 1st)
BERCIC, Carrie (OneCity)
CHAN-PEDLEY, Lois (GREEN)
CHO, Carmen (NPA)
DAY, Diana (COPE)
DENIKE, Ken (Coalition Vancouver)
DESCÔTEAUX, Stéphanie (VANCOUVER 1st)
DONG, Tony (VANCOUVER 1st)
FARROKHI, Fairnia
FRASER, Janet (GREEN)
GILL, Pratpal Kaur (VANCOUVER 1st)
GONZALEZ, Estrellita (GREEN)
GOODINE, Nadine C (Coalition Vancouver)
HANSON, Oliver (NPA)
JAAF, Erica (OneCity)
KENNEDY, Gordon T
KINDRID, Tiffiny (ProVancouver)
LEE, Marco (VANCOUVER 1st)
LEUNG, Aaron (Vision Vancouver)
MRS DOUBTFIRE
OGER, Morgane
PARROT, Barb (COPE)
PRIETO, Julian (YES Vancouver)
QIU, Chris (NPA)
REDDY, Jennifer (OneCity)
RICHARDSON, Christopher JK (NPA)
WONG, Allan (Vision Vancouver)
WOO, Sophia (Coalition Vancouver)
ZHOU, Ying (Coalition Vancouver)
When nominations can be challenged and withdrawn
The challenge period for candidate nominations ends on September 18 at 4 p.m.
Candidates can withdraw their nomination or have their endorsement by the elector organization withdrawn until 4 p.m. on September 21 during office hours.
When candidate documents and forms will be made available 
Candidate nomination documents will be available on the City's website later Saturday evening, and will be available for public inspection in the City Clerk's office and the Election Office on Monday, September 17.
Candidate financial disclosure forms will also be available for public inspection on Monday, September 17, and posted on the City's website the same day
Candidate profiles will be available on the City's website after September 27.
Random order ballot draw details 
The random order ballot draw will take place in the Council Chamber, 3rd Floor, 453 West 12th Avenue at 5 p.m. on September 21.
Candidates (or their official agents) and media are permitted to attend in-person. All others can watch the draw live online through vancouver.ca/vote, using the council video broadcast system. A recording of the video will be available after the event.
The draw will take place in accordance to section 79 of the Vancouver Charter, meaning:
–      Each candidate's name will be written on a separate piece of paper, as similar as possible to all other pieces
–      Each piece of paper will be folded in a uniform manner so the names are not visible
–      Each piece of paper will be placed in a container which will then be shaken to make their distribution random
–      The Chief Election Officer will direct a person who is not a candidate or candidate representative to withdraw the papers one at a time
–      For each race, the name on the first paper drawn is the first name on the ballot, the name on the second paper is to be the second, and so on until all the candidates' names have been placed on the ballot.
The Chief Election Officer will give brief remarks at the start of the draw to fully explain the process.
For more information on the Vancouver municipal election, visit vancouver.ca/vote.