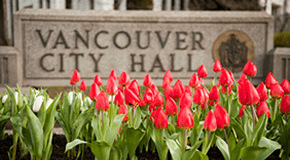 THE business owners from the Granville Entertainment and Davie Village neighbourhoods, who make up the industry group Hospitality Vancouver Association (HVA) say they applaud Vancouver City Council's unanimous support of a motion aimed at encouraging impaired drivers to leave their vehicles parked overnight in Vancouver.
Councillor Lisa Dominato brought forth the motion that passed at January 29's Council meeting to direct staff to work with EasyPark and explore options to extend overnight parking beyond 6 a.m. in all of the 125 EasyPark facilities citywide.
The decision could extend the 'Park Until' feature to allow people attending restaurants or bars as well as sporting, musical, cultural or other events in Vancouver to make the safe decision to leave their vehicle in an EasyPark lot and prepay for morning parking to avoid expensive parking tickets. Currently, the longest a vehicle can be left in an EasyPark lots is 6 a.m.
"As an organization, we are pleased to see Councillor Dominato bringing forward this motion and it receiving unanimous support from Council. We all need to continue to work towards ensuring there are safe late night transportation options for patrons and workers in Vancouver," said Christa Montpetit, Executive Director, Hospitality Vancouver Association. "Patrons travel to businesses in the city from around the region. It's imperative we give them options for making the right decision about getting home safely, and this decision by Council is direct action towards that goal."