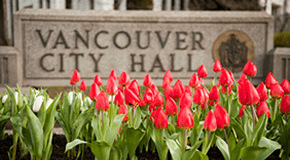 THE last day for advance voting in the Vancouver city election is tomorrow, Wednesday October 17.
Over the first six days of advance voting, over 29,000 votes have been cast, which is higher than the 23,811 votes cast in the first six days of advance voting in 2014.
As well, over 900 ballots were cast in the first ever Kids Vote program, held this past weekend. Results from the Kids Vote will be announced on October 20 after 8 p.m.
Citizens can vote at any of the following locations during advance voting:
Britannia Community Services Centre, 1661 Napier Street
Hastings Community Centre, 3096 East Hastings Street
Kerrisdale Community Centre, 5851 West Boulevard
Killarney Community Centre, 6260 Killarney Street
Kitsilano War Memorial Community Centre, 2690 Larch Street
Marpole – Oakridge Community Centre, 990 West 59th Avenue
Renfrew Park Community Centre, 2929 East 22nd Avenue
Roundhouse Community Arts and Recreation Centre, 181 Roundhouse Mews
Sunset Community Centre, 6810 Main Street
Trout Lake Community Centre, 3360 Victoria Drive
West End Community Centre, 870 Denman Street
Vancouver City Hall, 453 West 12th Avenue
Election day is October 20, when over 100 voting places will be open from 8 a.m. to 8 p.m.
Most voting places are wheelchair accessible: find accessibility details for every location on City of Vancouver website. Support is also available for those who need help marking their ballot or have difficulty speaking, reading, or understanding English.
Citizens who received voter information cards are encouraged to bring them to the voting place to speed up voting.
Selfie stations are also available at each voting location, and citizens are encouraged to snap pictures with their I Voted stickers and use the hashtag #VancouverVotes to raise awareness of voting.
Plan your vote to save time 
With a long list of candidates in random order this year, the City recommends that voters plan their vote in advance to save time in the voting booth.
Voters can easily make a plan to take to the voting place in two ways:
Use the Plan Your Vote tool at vancouver.ca/vote, or
Fill in the worksheet in the printed voters' guide, available at all community centres and libraries.
Access for voters with disabilities and other vulnerable residents 
Voting opportunities are still available until October 19 at 90 special facilities, including hospitals, large care facilities, shelters, social service drop-in centres and smaller care facilities. More than 30 opportunities are located in the Downtown Eastside and Strathcona. A full list of locations and times can be found on the election website (PDF).
Accessible ballot marking machine available
During advance voting only, an accessible ballot marking machine will be available at Roundhouse Community Arts and Recreation Centre and Killarney Community Centre.
Those who require assistance marking their ballot can use the machine, which features:
Sip-and-puff-, paddle- or other accessibility devices
Audio instructions and braille markings on paddles and buttons
Large print or high colour contrast
Audio and written ballot marking instructions in Cantonese, Mandarin, and Punjabi
Watch a video to learn more about the machine.
For more information on the Vancouver city election, visit vancouver.ca/vote.