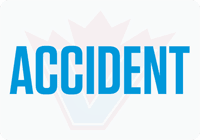 VANCOUVER Police are investigating a West Side collision between a motorcycle and a truck that has sent a 40-year-old Vancouver man to hospital with life-threatening injuries.
The collision occurred just before 2:30 p.m. on Thursday, when a motorcyclist collided with a transport truck in the intersection of West 4th Avenue and Blanca Street.
The motorcycle was travelling east on West 4th Avenue when it struck the truck, which was making a left turn to go south on Blanca Street.
The motorcyclist sustained life-threatening injuries and was rushed to hospital where he remains in critical condition. The occupant from the truck was not seriously injured and is cooperating with the investigation.
Investigators from the VPD's Collision Investigation Unit are collecting evidence at the scene and anticipate that the intersection will remain closed for several more hours. Speed appears to be a factor in this collision.
Anyone who may have witnessed this crash is asked to call the VPD's Collision Investigation Unit at 604-717-3012.