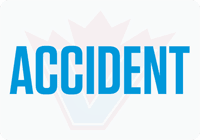 VANCOUVER Police are asking for dash-cam video following a collision on Monday morning  (April 29) near East 12th Avenue and Kingsway. A 15-year-old pedestrian has been transported to hospital with serious injuries.
Just after 8 a.m. a pedestrian was on the northeast corner of East 12th Avenue and Kingsway waiting to cross west across Kingsway. A work truck was northbound in the curb lane on Kingsway when a part of the truck struck the pedestrian who was near the curb at East 12th Avenue.
The driver of the truck remained at the scene and is cooperating with collision investigators. Anyone who may have dash-cam video and was driving in the area of East 12th Avenue and Kingsway on Monday morning between 8 and 8:30 a.m., is asked to contact collision investigators at 604-717-3012.