VANCOUVER'S Celebration of Light and Pride festivities draw both residents and visitors alike into the West End and neighbouring Kits Point.
Celebration of Light
Now in its 30th year, the annual Celebration of Light is the longest running off-shore fireworks competition in the world and one of the largest events in Vancouver.
Thousands of people will make their way to the West End and Kits Point this year to watch spectacles by teams from Japan (July 23), Canada (July 27), and Spain (July 30).
To accommodate the event, various road closures will be in effect with traffic disruptions anticipated in the West End and Kitsilano:
9 a.m. to 7 p.m.

Beach Avenue from Pacific to Davie Street, periodic traffic control for event load-in

7 p.m. to 12 a.m.

Davie Street from Denman to Burrard Street
Denman Street from Alberni to Beach Avenue
Beach Avenue/Pacific Street from Stanley Park to Thurlow Street

Local Traffic Access Points

Exit West End via Denman Street at West Georgia, Nelson, Thurlow or Burnaby Street
Enter West End via Denman Street at West Georgia, or Burnaby Street
Kits Point local access only for North of Cornwall Street from Arbutus to Chestnut Street
Vehicle access in these areas will be limited to residents with a local parking decal or vehicle registration displaying a local neighbourhood address. Transit, walking or cycling are the best options to get around town to enjoy special events.
Mobi by Shaw Go is helping to make biking to the fireworks even easier by adding docking capacity in English Bay at the Bidwell and Burnaby station. On event dates, Mobi staff will be helping end rides at busy stations in both English Bay and Kitsilano.
No open flame barbeques will be permitted in English Bay Beach Park between 2100 Beach Avenue to Bidwell Street during Celebration of Light.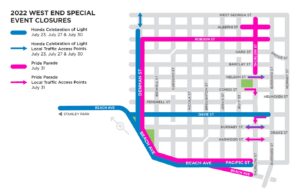 Pride Parade
Celebrating its 44th year, the 2022 Annual Pride Parade is taking place Sunday July 31, 2022 from 12-3 p.m.
Road closures to facilitate the 2022 Pride Parade will include:
7 a.m. – approximately 3:30 p.m.:

​​Thurlow Street from West Georgia to Nelson Street
Alberni Street from Bute to Burrard Street
Robson Street from Denman to Burrard Street
Denman Street from West Georgia to Beach Avenue
Beach Avenue/Pacific Street from Denman to Thurlow Street, cyclists should walk their bikes as crowds arrive

Local Traffic Access Points

Exit Beach going east until Parade start (VPD to assist)
Exit West End via Nelson, Comox , Thurlow, Harwood, or Burnaby Street
Enter West End via Harwood, Burnaby, or Davie Street
Special event tips:
To help ensure that these events run as smoothly as possible, the City asks residents and attendees to follow these tips:
Protect yourself during hot weather, for tips to stay safe in the heat, visit vancouver.ca/hotweather
Walk, bike, roll, or take transit whenever possible
Stay ahead of road closures at vancouver.ca/road-closures
Be aware of fireworks viewing point markers, especially those marking the high tide points along the beach
Don't let waste become litter: put waste in its place. Walk, bike or roll with waste to the nearest garbage, recycling or organics bin
Avoid single-use items and bring reusable water bottles, travel mugs, cutlery and containers
Use the "Pack-In, Pack-Out" method, especially for large gatherings. Group gatherings often result in excess waste and can quickly overfill waste bins. Bring waste home with you to properly sort and dispose of
Be considerate of the community and keep noise to a minimum when leaving evening events
Respect the no smoking ban in Vancouver parks and refrain from using barbeques
Follow safe boating guidelines and carry your boating license with you at all times if you are watching the fireworks from the water
Leave your pets at home. Fireworks and large crowds can be very frightening for animals. If you choose to bring your dog with you, make sure it's wearing proper identification: 97 per cent of dogs that are licensed and wearing tags are returned to their owner. If your dog gets lost, phone 3-1-1 to inform Animal Services
Stay tuned for a few other special events before the summer season wraps up:
Granville Promenade – every Saturday and Sunday in August
Festival of India – August 28
Mural Fest – August 4 to August 14
Car Free Day, Denman Street – August 20
Car Free Day, Main Street – August 27
Taiwan Fest – September 3-5
RBC Gran Fondo – September 10
Car Free Day, Commercial Drive – September 10
Resources: