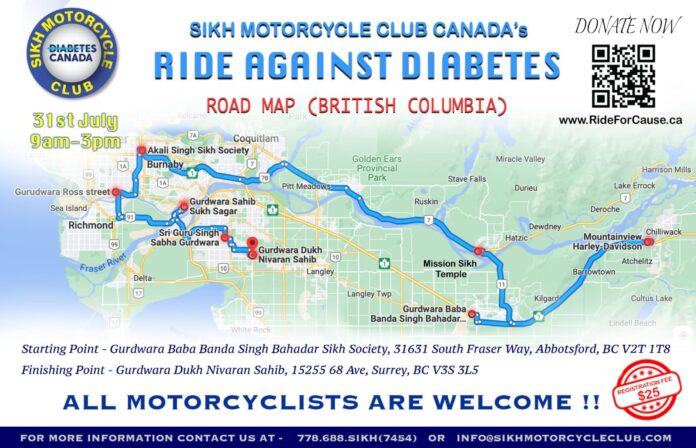 THE Sikh Motorcycle Club of Canada is set to ride over 10,000 kilometres across the country through their Ride For Cause… Let's End Diabetes, with the goal to raise $100,000 to ensure Diabetes Canada's research can continue.
The club notes that diabetes is successful at outrunning us all. With 640 new cases diagnosed daily, 26 hourly, or 1 every 3 minutes – diabetes is not slowing down. That's why each year Diabetes Canada funds 20 End Diabetes research awards. Each award commits a $100,000 grant annually for three years to support researchers on the road to breakthrough discoveries to help end diabetes.
The club says it is proud to support the "End Diabetes Fund" which supports research to enhance understanding of diabetes and its prevention, causes, management, and cure. Since 2019, the Sikh Motorcycle Clubs across Canada have helped raise over $150,000 towards programs and services for those affected by diabetes.
"Diabetes Canada is grateful for the commitment and support of the Sikh Motorcycle Club of Canada and the riders here in British Columbia. These types of partnerships and events allow us to further support the 1.6 million individuals living with diabetes, prediabetes or undiagnosed in British Columbia," says Andrea Kwasnicki, Director, Community Fundraising and Events, Diabetes Canada, Western Canada.
For more information: http://rideforcause.ca/
Date: Sunday, July 31, 2022 
Time: 9 a.m. – 3 p.m. 
Where: Start: Gurdwara Baba Banda Singh Bahadar Sikh Society
31631 South Fraser Way, Abbotsford
Finish:  Gurdwara Dukh Nivaran Sahib
15255 68 Avenue, Surrey
Route Map
Who: Sikh Motorcycle Club and Diabetes Canada