ON Sunday, July 31, the Sikh Motorcycle Club of Canada held a motorcycle ride at same time in different provinces across Canada, with chapters from British Columbia, Ontario, Winnipeg (Manitoba), Saskatchewan and Alberta participating.
During the ride, the riders visited local gurdwaras and businesses to collect donations. Apart from the members of the Sikh Motorcycle Club, about 50 bikers from Muslim Riders Club and other motorcycle clubs participated in this ride.
Sikh Motorcycle Club British Columbia started the ride from Gurdwara Baba Banda Singh Bahadur in Abbotsford and passed through Mission, Vancouver, New Westminster and ended at Gurdwara Sahib Dukh Niwaran in Surrey.
Many local businesses also provided financial support to meet the target. Sikh Motorcycle Club has done many events like this in the past, some of which include a  Cross Country Ride to raise funds for the Canadian Cancer Society, and a Ride to Punjab from Canada to raise funds for Khalsa Aid.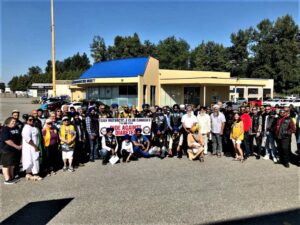 At the closing ceremony of this ride, the founder of the club, Harjinder Singh Thind, thanked all the motorcycle clubs and riders who participated and contributed to its success. Dr. Gulzar Cheema spoke about the ill effects of diabetes and the ways to avoid it.
The team thanked Dave Sidhu, Kelly Chahal, Bruce Banman, Harry Bains and Gyani Narinder Singh for their presence and support for this ride.
The Sikh Motorcycle Club was thanked by Sarah Reid, Regional Director, Diabetes Canada British Columbia, for the donations handed in the end.