TALK about guts!
United Conservative MLA for Chestermere-Strathmore Leela Aheer didn't think twice when a man was being trampled by a bull at the Strathmore Stampede on Saturday.
The former Minister of Culture, Multiculturalism and the Status of Women, who is also running for the UCP leadership, indeed, showed who the boss is when she hopped the fence and fearlessly jumped in to try to push the ferocious bull off a man who the animal had charged and struck.
Dressed in a white cowboy hat, a red shirt and jeans, she can be seen on Twitter pushing back the bull's head (on the righthand side of the Twitter screengrab). As another man also rushes in to help, the dauntless MLA helped the man get up and climb over the fence to safety.
A true leader, indeed!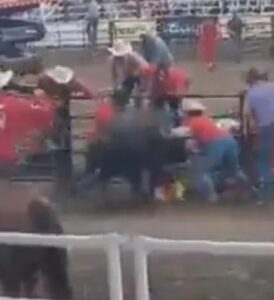 If you ever wonder what kind of leader @LeelaAheer would be…

Yesterday she grabbed a bull. Jumped right in front of it. Pushed it, to save someone who was stuck under.

She did not hesitate one minute.

This is my friend. And this is who I want as a leader#ableg #abpoli pic.twitter.com/MGRVonSlMV

— Sarah Biggs (@sarahbyyc) August 1, 2022
AHEER
Leela Sharon Aheer was born in Edmonton. Her father is a noted chemical engineer and her mother is a musician. She moved to an acreage in Chestermere at age 8 and attended Conrich School and Chestermere High School. She has called Chestermere home for over 40 years.
Leela has a degree in music from the University of Manitoba, can sing in 8 languages and speaks 4. She has been married for 26 years to her husband Malkeet and has two grown sons, Akesh and Sehran.
Leela and her husband own a car wash in Chestermere and prior to her election she ran an award-winning music studio and performed as part of the nationally released vocal trio "Minerva".
She has demonstrated her commitment to local, accessible health care by helping to build the Chestermere Health Centre. She was awarded "2013 Volunteer Of The Year" in Chestermere.
Leela was first elected under the Wildrose banner in May of 2015 in Chestermere – Rocky View and served in Opposition as Shadow Minister of Energy, Education, and Status Of Women. With the advent of the United Conservative Party (UCP) Leela became the Deputy Leader of the UCP Official Opposition in the Alberta Legislature and the Shadow Minister of Childrens' Services and Status of Women.
She was re-elected on April 16, 2019, as the MLA for the newly formed riding of Chestermere-Strathmore.
She served as Alberta's Minister of Culture, Multiculturalism and Status of Women from April 30, 2019 to July 8, 2021.