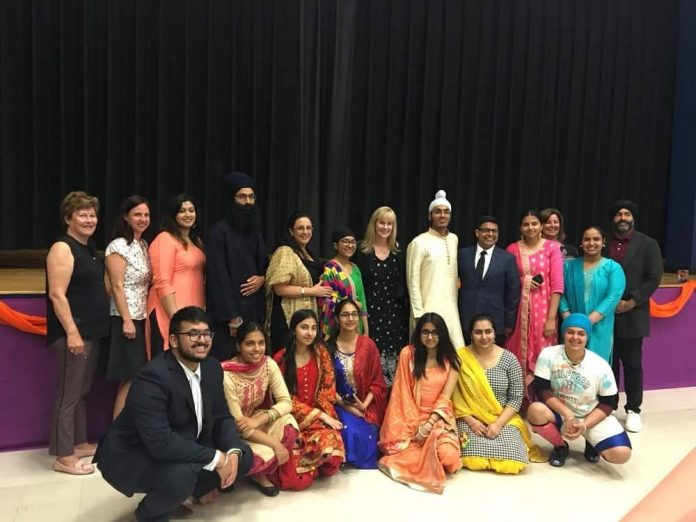 THE World Sikh Organization of Canada, in partnership with the Peel District School Board in Ontario, on Monday launched the Sikh Faith E-Module. The E-Module, intended for students, their families, staff and our community partners will share information on Sikh faith, culture, heritage and much more.
The Sikh Faith E-Module is the culmination of several years of collaboration and effort and will provide information on best practices when interacting with and educating Sikh students.  The launch took place at North Park Secondary School in Brampton.
In 2011, The WSO conducted a survey of over 300 Sikh students between the ages of five and 17 in Peel and found that approximately 40% reported being bullied because of their Sikh identity (in a subsequent survey in 2016, the number declined to 27%).  The WSO shared the results with the senior leadership of the PDSB in the spring of 2012 and the idea of creating a resource on Sikh students was discussed.  After several years of dialogue and cooperation, the Sikh Faith E-Module has now been launched.
The Sikh Faith E-Module covers basic information about the Sikh faith and includes short interviews with current and former Sikh PDSB students who speak about issues such as the significance of the turban and Sikh articles of faith, a turban tutorial and to do if the turban becomes loose or undone, Sikh celebrations and Sikh food.  The E-Module also provides teachers with classroom tips to help Sikh students do well in the classroom.
The module was launched at an event held at North Park Secondary School in Brampton with the school's Sikh Students Association putting on displays and information tables, including turban tying stations.
WSO Ontario Vice President Sharanjeet Kaur said, "The Sikh Faith E-Module is the result of several years of cooperation and dialogue with the Peel District School Board.  The E-Module will be an important tool for educators to understand the identity and lived experiences of Sikh students. It will also be a resource for educators when they have specific questions about Sikhs or the Sikh faith.  We are grateful to the PDSB for their assistance and support in producing this E-Module and we are hopeful that it will be a resource not just for Peel but for educators across Canada."
Harkirat Singh, Peel School Board Trustee for wards 9/10, who played an important role in the development of the E-Module said, "Partnerships between school boards and community organizations are vital for student success. The WSO's partnership with the Peel District School Board has produced this profound resource that will help equip educators and students with knowledge about the Sikh community. This will fundamentally help address a wide array of challenges that students of the Sikh faith face."