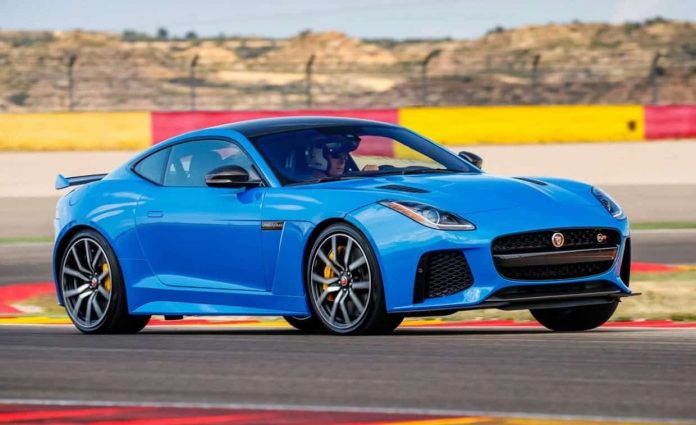 By Autoreviewman
The new 2018 Jaguar F-Type is a sensual, exotic, interpretation of the iconic E-Type Jaguar and a fitting car for the times. Muscular, compact, yet elegant the F-Type dazzles with its sinuous flowing lines. This thoroughbred two seater coupe looks expensive, classy and wonderful from any angle.
The Jaguar F-Type arrives in three models: the base F‑TYPE Coupe priced from: $69,500 with a 296 hp Turbocharged 4-cylinder, or a 340 hp or 380 hp Supercharged V6 engine. The F‑TYPE R Coupe is priced at $114, 500 and offers a 550 hp, 5.0L Supercharged V8 engine, and All Wheel Drive. Finally there is the top of the line SVR high performance coupe as tested with a base MSRP from: $140,500. Key upgrades on the SVR include the uprated 575 hp, 5.0L Supercharged V8 engine, All Wheel Drive system, unique 20″ Forged alloy wheels, Carbon Fibre rear wing, front and rear spoilers, carbon fibre hood vents and uprated yellow brake calipers to set off the exterior. Interior upgrades include the SVR performance seats in a wonderful Lozenge pattern quilted leather with contrasting stitching and piping, heated SVR branded leather steering wheel with aluminum gearshift paddles and much more. The cabin is draped in plenty of leather and Alcantara trim and the F-Type's switchgear is exquisitely crafted. It's an interior to just die for, featuring meticulously fitted high quality components.
Jaguar claims a 0–100km/h time of around three and a half seconds, and if anything, the SVR feels even quicker.
The 5.0L supercharged V8 makes 25 more hp than the standard eight-cylinder F-Type, and acceleration from 550 hp is dragster –like, accompanied by the SVR-specific lightweight two-mode exhaust that is suitably loud. On the road, the all-wheel drive system is superb, providing incredible grip and cornering, this is not a light car, what with all that V8 at the front and the all-wheel drive system, but with a near perfect 50:50 weight distribution, it handles beautifully. The 8-speed automatic gearbox offers fast, precise shifts and  one can manually change gears through the SportShift gear lever (Or steering mounted paddle shifts.), The Sports mode feature, that hold upshifts until you manually change-up.  This mode also firm the dampers, and adjusts shift mapping, throttle response, steering weight, and stability control for more performance. Dynamic mode changes parameters   for even faster acceleration, more control, and tighter cornering
Superb supercar thrills all the time!
 2018 Jaguar F-Type SVR Coupe. Priced from $140, 5001. Plus taxes and options
Website Jaguar.ca