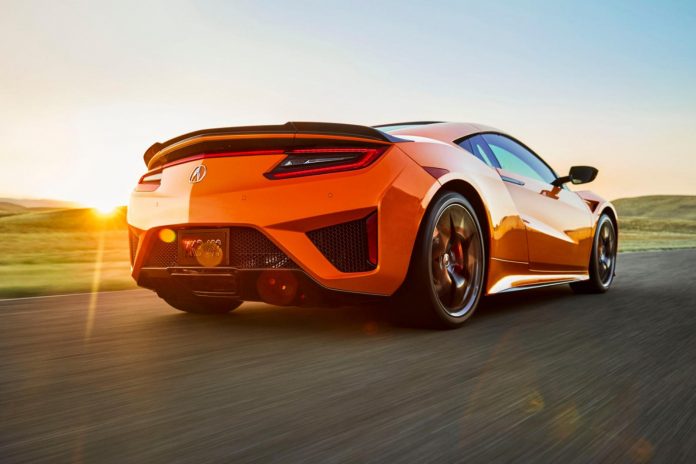 By Veeno Dewan
The 2020 NSX is now available for ordering, with first customer deliveries to begin in November. The 2020 NSX carries a starting Manufacturers Suggested Retail Price (MSRP) of $157,500, not including delivery charges. For more information on ordering, visit Acura.com/NSX. Indy Yellow Pearl pays homage to Spa Yellow, one of two yellow paints offered on the first generation NSX, and will join Berlina Black as an available heritage color for the 2020 model year. Each NSX is handcrafted at the Performance Manufacturing Center (PMC) in Marysville, Ohio1 and continues the NSX tradition of offering an incredible performance value in the supercar market. The 2020 NSX is powered by an innovative Sport Hybrid SH-AWD® power unit consisting of a bespoke twin-turbocharged 3.5-liter V6 engine, 9-speed dual clutch transmission (9DCT), and three electric motors supplementing the engine with instantaneous electric torque. The second-generation NSX features an advanced, multi-material body and aluminum-intensive space frame, enabling ultra-high rigidity, compact packaging and outstanding collision safety performance.
Using the same Ohio-made multi-material space frame and 3.5-liter twin turbocharged engine design as the road-going NSX, the NSX GT3 and GT3 Evo have tackled some of the world's most iconic GT races, including the 24 Hours of Daytona and Spa; the 12 Hours of Sebring; Petit Le Mans; and the FIA GT World Cup in Macau.
In the SRO GT World Challenge America series, the NSX GT3 has earned multiple wins as well, including six pro-am wins by three different teams this year in the new NSX GT3 Evo. Around the world, the NSX GT3 driven by Autobacs Racing Team (ARTA) leads the GT300 class in the Japanese Super GT series with two podium finishes, and the NSX GT3 has also competed in Blancpain GT Series Asia, China GT Championship, select events in the Intercontinental GT Challenge, the Blancpain GT Sports Club and GT Series in Europe, and the ADAC GT Masters in Germany.
The race-winning, carbon fiber NSX GT3 Evo is offered for sale globally at a starting price of €465,0002 (Approx. US $525,000). Since becoming available for customer purchase in July 2017, and updated last year as the NSX GT3 Evo, there are currently 17 NSX GT3s in the hands of professional and amateur race teams globally, with the NSX GT3 Evo certified to compete in more than a dozen FIA-sanctioned racing series around the world. More information on the NSX GT3 Evo can be found at AcuraClientRacing.net.