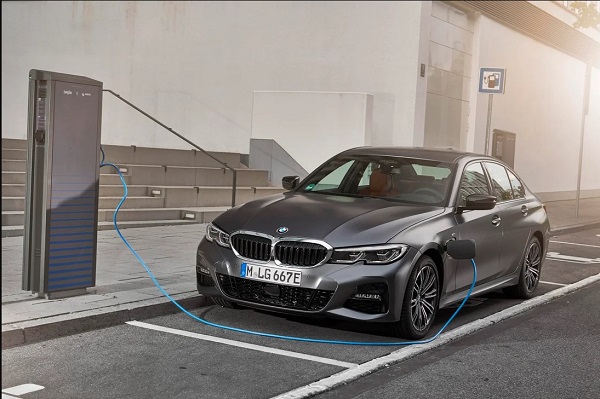 Auto review by Veeno Dewan
For  2021, the BMW's Plug in Hybrid (PHEV)  330e sedan is  redesigned with updated styling and  extended electric driving range. Like all BMW's sedans It is a  handsome and restrained looking
The BMW 330e powertrain comprises of a turbocharged 2.0L four-cylinder  engine combined with an electric motor. The gas engine  develops 181 horsepower and 258 lb.-ft of torque, while the electric motor  develops 107 Hp and 77 lb.-ft of torque. Combined power output is 288 horses and 310 lb.-ft of torque which is roughly 30 hp and 25 lb-ft greater than the normally aspirated gas engine 330i. The transmission is an eight-speed unit and buyers can select from rear- or xDrive all-wheel drive. The 12-kWh gross (9.09 kWh net) lithium-ion battery is located  under the rear seats.  This 330e can travel up to 35 kilometres on battery power alone and to speeds up to 140km/ using the Electric mode; The official fuel economy figure  for the 330e is: 10.7 L/100 km in the city, 7.9 on the highway, and 9.4 combined. However, as usual this is dependent on  driving habits.
The 330E comes very well equipped, with full electric features. The base MSRP for our 330e is a very tempting $44,950.  Our smart looking Tanzanite Blue Metallic xDrive tester  base priced at  $54,000 had the following optional Equipment: Premium Enhanced Package ($4,900) Also added was the  M Sport Package. ($2,000)  with: Sport Auto Trans w/Paddles, M Leather Steering Wheel, M Aerodynamics Package,  High-Gloss Black Window Surround , 19"-inch  Double-Spoke wheels, and Variable Sport Steering. Stand-Alone Options included: Adaptive M Suspension, BMW Laserlight Headlights, and High-Gloss Black Exterior trim.  Final price as tested: $66,200.
Down sides are few. Fuel tank  capacity is less due to space needed for the hybrid battery, and the PHEV's battery pack and electric motor adds an additional 166 kg (366 lb) in weigh penalty for  a  half-second slower 0-60 km dash than the fully gas- engine 330i. And, as usual with BMW  the cost climbs quickly  when the desirable options as fitted to our tester are chosen.
The 2021 BMW 330e is a very attractive choice for those buyers  who are loyal to the BMW brand or those  looking for a hybrid premium luxury sedan with all the attributes BMW is known for: performance, build quality and styling. Highly recommended.
2021 BMW 330e xDrive PHEV- priced from:  $54,000. Price as tested with all options: $66,200.  
www.bmw.ca