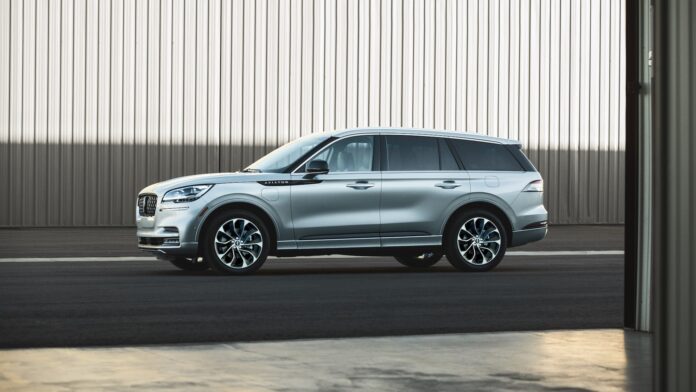 Autoreview by Veeno Dewan 
The Aviator is Lincoln's re-entry back into the completive mid-size luxury SUV segment, and slots in between the brands Nautilus and Navigator, offering seven-seat three-row capacity, a rear-wheel drive platform, and for the first time in a Lincoln, a plug-in hybrid powertrain,
It's hard not to call the Aviator one of the best looking Lincolns in a while, the signature rectangular grill has a top grade silver mesh finish, and there is a full width light bar at the e rear. The look is sleek, yet pleasingly substantial with just the right amount of chrome trim, meaty fenders and neat character lines. The Lincoln Aviator gets some added bling with either 21 or 22-inch wheels, and plenty of luxury options such as: 30-way adjustable front seats with massage feature, soft-close doors, and a 28-speaker Revel Ultima 3D stereo system. And, not to mention a bundle of standard driver-assistance features and of course two versions of the semi-autonomous ls Co-Pilot360 system. Buyers can choose a twin-turbo V-6 engine or a plug-in-hybrid powertrain using the same V-6 on the Grand Touring hybrid model as tested. Rear-wheel drive is standard, but all-wheel drive is available as an option.
The Grand Touring hybrid model offers a 13.6 kilowatt-hour battery and the addition of a 101-hp/221 pound-feet electric motor. Paired with the 3.0-litre 400 horsepower/415 pound-feet EcoBoost V6, the total power output for the Grand Touring is an impressive 494-hp and 634 pound-feet of torque. The Grand Touring is a demon off the line with a 100 kilometres an hour in less than six seconds time. As for fuel economy, the GT is rated at 10.3 L/100 km by Transport. If you keep your daily commute under 30 kilometres or so, the Grand Touring hybrid will run emissions-free solely on electric power right up to 130 kilometres an hour. The Gran Touring charges in about four hours on a Level 2 charge through a dedicated charging port. An l 110 Volt charge will take about 8 hours.
This rig ain't cheap! The Base GT costs $81,500. While our luxury tester came with option packages that boosted the price to $94,956 plus $2,150 for destination.
Equipment wise, the Lincoln offers a 12.3-inch digital instrument cluster, a 10.1-inch touchscreen, satellite radio, a Wi-Fi hotspot, and Apple CarPlay and Android Auto capability- all standard on the Lincoln Aviator. A smartphone's Bluetooth signal can be used to unlock and start the Aviator in place of the key. The Aviator's standard Co-Pilot360 system of driver-assistance technologies, while the optional Co-Pilot360 Plus adds: adaptive cruise control, traffic-sign recognition, and a self-parking system that will steer the vehicle into both parallel and perpendicular spots. Key safety features are very comprehensive
Interior wise, Lincoln have pulled out he stops! The dashboard is upholstered in genuine leather and stretches dramatically with a large touchscreen embedded into it. Acres pf plush leather and gleaming wood coat he doors, center console and elsewhere. Chrome and metal accent pieces gleam all setting off the rich brown coloured leather seats. The push button gear selector is easy to use, but there are also handy buttons and traditional climate controls knobs. It really is one of the best SUV interiors I have seen for a while. The interior doors handles are replaced by magical soft close push buttons- something you find only on the most expensive super cars.
The second-row captain's seats (a bench seat is also available) is also well upholstered, and finished to a high standard. Access to the third row of two seats, is via folding second row seats.
On the road, despite the heavy weight of the Aviator, it is no slug off the line with a firm push in the back in electric mode as you drive off. There is also no trace of wallow or extreme body roll in corners. I like the seamless transition between the gas engine and the hybrid unit.
The Lincoln Aviator features a "Drive Mode" control wheel, which allows you to change the Aviator's reactions. The available modes are Excite -for performance, Conserve – for eco driving, Normal for city driving, Slippery mode for the wet and Deep Conditions for off-road conditions. Normal is the best mode, although Excite mode which sharpens the SUV's responsiveness, holding gears s a tad under acceleration, as well as mitigating stability control and traction control for a more spirited feel.
To sum up, Lincoln has upped the game and gives buyers a solid domestic alternative to the German in this sector with its mix of premium features, luxury and technology. Highly recommended as one of the best luxury SUVS around.
2021 Lincoln Aviator Grand touring hybrid MRSP $81,500. Price s tested with options$94,956 plus $2,150 for destination.
www.lincpln.ca