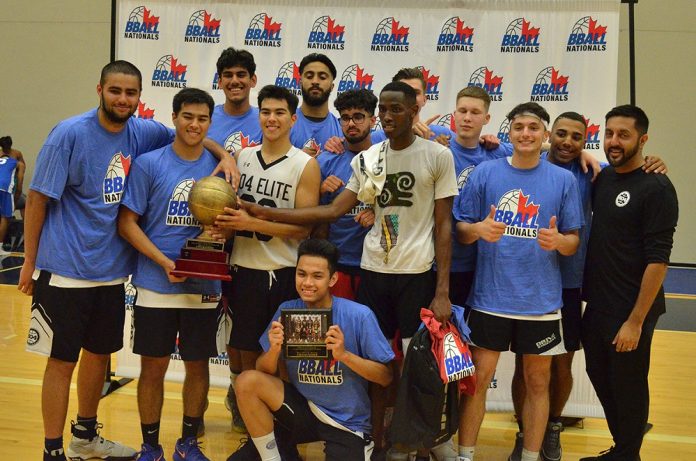 FOUR days of intense action came to an end with six champions crowned at the 2019 BBall Nationals Boys Tournament on Monday at Langley Events Centre.
This was the second year the event was held at LEC with the field increasing from 52 teams in 2018 to 67 in 2019.
The teams were competing in three divisions – U14, U16 and U18 – with an Elite Division and All-Star Division champion in each and games running from August 2 to 5.
U16 Elite Shooting Stars 82 Rock Elite 65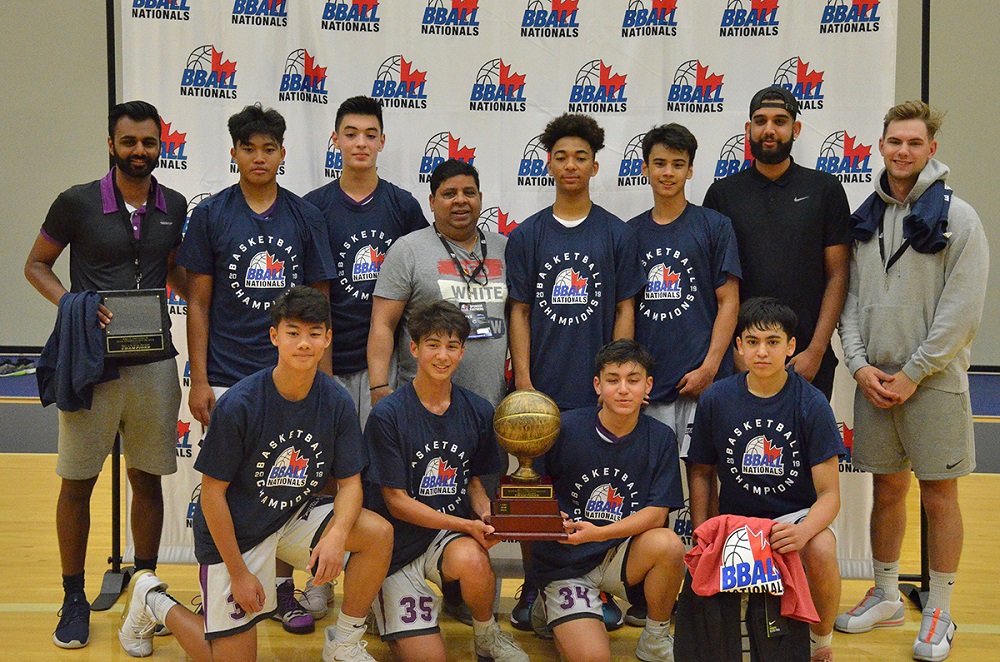 The combination of Jonathan Downton and Travis Hamberger proved to be too much to handle for the opposition.
Hamberger scored 17 of his 24 points in the second half while Downton had 19 points to help lead Richmond's Shooting Stars Basketball Club U16 Purple past Rock Elite (Newfoundland) 82-65 in the U16 Elite championship final.
The Shooting Stars were up 37-31 at halftime but blew the game wide-open in the second half thanks to a 33-9 barrage and coasted to the 17-point victory.
Downton earned game MVP honours.
Michael Kitka (13 points, including four three-pointers) and Zyken San Felipe (12 points) gave the Shooting Stars four players in double figures for scoring.
Rock Elite was led by a game-high 26 points from Liam Dalton and 17 points from Ethan Vey.
U16 All-Star Junior OC 72 The Squad 63
Trailing by four points in the second half, Kelowna's Junior OC Coyotes outscored The Squad by a two-to-one margin down the stretch to win the U16 All-Star title 72-63.
Junior OC was down 50-46 but scored 26 of the game's final 39 points.
Game MVP Brandon Nemes had 22 points in the victory while Blake Torgerson had 16 of his 17 points in the second half and Cam Parker was lights out from beyond the arc in the first half, connecting on four triples while scoring 15 points.
Irish Coquia led The Squad with 17 and Jose Malabanan had 15 points.
U14 Elite New Era 65 VSC Elite 63
A beautifully executed inbounds play saw Kian Macaraeg score the winning basket as New Era rallied for a 65-63 victory over VSC (Vancouver Sports Club) Elite in the U14 Elite championship game.
The score was tied at 63 with three seconds on the clock but Mikyle Malabuyoc pass from the far sidelines found Macaraeg in the paint and he was able to maneuver himself away from the defender for the winning bucket.
New Era had trailed 58-51 but outscored VSC 14-5 down the stretch.
VSC had taken the lead thanks to a big run of their own, 16-8 and then after falling behind 63-61, tying the game with three seconds to play thanks to a clutch baseline jumper from Griffin Dykstra.
New Era had four players reach double figures with Brady Lau scoring a team-high 19 while Malabuyoc had 18, Macaraeg had a dozen (all in the second half) and Gurshan Sran had 10. Malabuyoc earned the game MVP award.
VSC was led by Tyler Simpa's game-high 20 points and 17 points from Ethan Larson and 11 from Jeremiah Wright.
U14 All-Star Abbotsford Basketball Association 68 Shooting Stars Basketball Club 39
Abbotsford Basketball Association's defence did a great job in limiting their opponent's ability to string together points while their offence was in full gear. The result was a 68-39 win over Richmond's Shooting Stars Basketball Club in the U14 All-Star championship final.
The biggest run the Shooting Stars – who came into the game averaging 60 points – were able to put together was five points. By comparison, Abbotsford rattled off runs of ten, seven (twice) and six points as they cruised to victory.
Nolan Watrin earned game MVP for Abbotsford, scoring 11 points, while Harshan Alamuala led the team with 13 points and Jason Dhaliwal had 10 points.
Wesley Ainu'u had a dozen points to lead the Shooting Stars.
U18 All-Star MacHoops 68 Northern Bounce 17 Red 50
An early blitz provided more than enough of a cushion as Richmond's MacHoops led nearly wire-to-wire in the U18 All-Star championship final.
MacHoops was down momentarily, 3-2, but scored the next 14 points and never looked back, defeating Northern Bounce U17 Red 68-50.
The game was a rematch of round-robin play on Sunday, when Northern Bounce wrapped up first play with a 5-0 record thanks to a 51-50 victory.
But in the rematch, Usman Tung earned the game MVP award with a 21-point effort while Hudson Swaim had 10 points.
Caleb Lyons and Cam Sale scored 18 points apiece to lead Northern Bounce.
U18 Elite 604 Basketball 82 VanCity Basketball 75
Down eight points late in the U18 Elite championship game, Surrey's 604 Basketball reeled off a game-closing 21-7 run, knocking off VanCity Basketball 82-75 for top spot.
It was the second time the teams met at the four-day tournament with 604 Basketball prevailing 71-43 in their earlier matchup.
604 Basketball led early in Monday's championship final, building a 15-7 lead before VanCity dominated the middle portion, leading by as many as a dozen points early in the second half. But David Mutabazi scored 16 of his 25 points in the second half to lead the charge, earning game MVP honours along the way.
In addition to his big game, Dominic Calderon had 19 and Dennis Alizadeh had 17 points.
Aamir Rajwani led VanCity with a game-high 27 points. Gus Goerzen chipped in with 21.