DELTA Police Department says it is experiencing a high number of catalytic converter thefts. Since January 1, 2023, it has received 33 reports of catalytic converter thefts. Most of these thefts have occurred overnight and are spread throughout Delta.
Catalytic converters are stolen because they contain several precious metals more valuable than gold. As of December 2022, rhodium was worth $12,600/ounce, palladium $1,854/ounce, and platinum $1,021/ounce.
As thieves need access to the underside of a vehicle to steal a catalytic converter, vehicles with higher platforms are the most targeted. While various makes and models are targeted, Hyundai and Kia SUVs remain the highest targeted vehicles. Cutting and removing a catalytic converter from a vehicle takes less than one minute.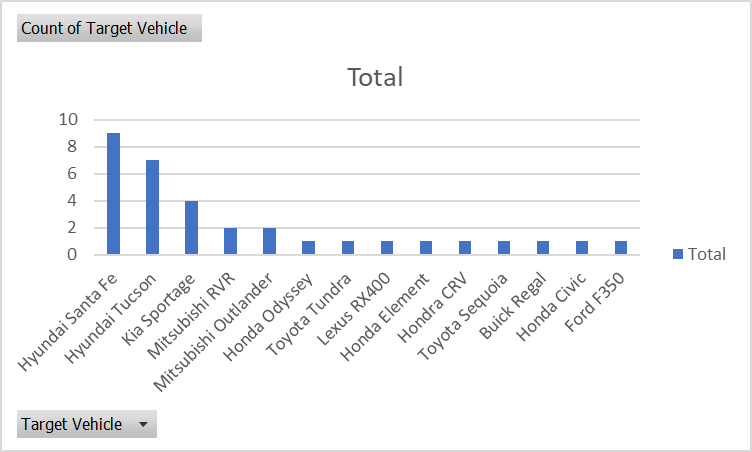 The DPD says it utilizes proactive policing strategies and also deploys plain-clothes officers who conduct targeted enforcement on known property crime offenders to prevent such thefts. However, it believes that the high value of the catalytic converters and the ability to rapidly remove them from a vehicle has potentially increased the number of unknown offenders stealing them.
Acting Inspector James Sandberg notes that the DPD "is working to bring awareness to the catalytic converter theft trend witnessed this year" and adds: "We encourage our community to be our partners in preventing such thefts by considering some tips we offer."
Tips: 
* park in a well-lit area or a garage
* park your vehicle in view of a CCTV security camera
* pay attention to odd sounds, such as a battery-powered saw or grinder
* have an auto shop engrave your vehicle's identification number onto your catalytic converter as this improves the likelihood of identifying a converter following a theft
purchase an aftermarket protective shield that adds a layer of security to your catalytic converter
The DPD also encourages the community to immediately report any suspicious activity, such as a car idling with a driver in it while a passenger has exited and is casing vehicles. In such instances, the DPD asks that you call 911 to report what may be a theft in progress so that its team can catch those responsible.
If you know of someone committing catalytic converter thefts but wish to remain anonymous, you can report it to CrimeStoppers at 1-800-222-8477.