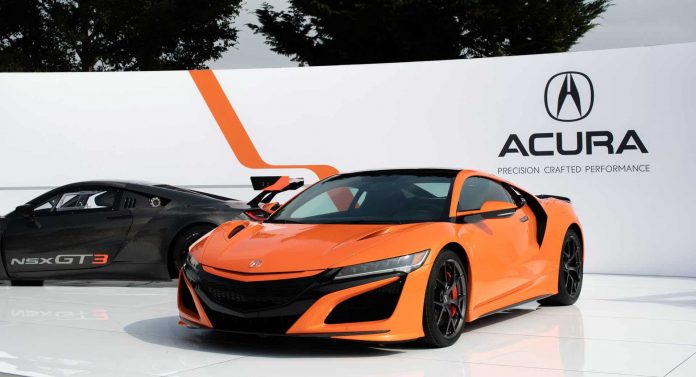 Chicago, ILL:  Acura recently marked 30 years since the shot heard 'round the automotive world — the 1989 global debut of the first-generation Acura NSX.  The first mid-engined exotic without European pedigree, NSX was a low slung, super light, high-revving machine sporting the world's first all-aluminum monocoque, titanium connecting rods, a VTEC™ valvetrain and levels of quality and daily driving comfort unheard of in sports cars of the time. Introduced as the NS-X Concept, the precursor to the production NSX, Acura chose the Chicago Auto Show for the global debut, at a press conference held at the Drake Hotel on February 9, 1989
Since its debut, NSX has made an indelible impression on the exotic and supercar world. Its all-aluminum construction and 270-horsepower VTEC V6 were as exotic as anything available at the time, but its conventionally comfortable and ergonomic cockpit and gentle road manners ran sharply counter to contemporary European exotics.
Like its predecessor, today's second-generation All-new NSX incorporates ground breaking technology. The Acura NSX is the only supercar made in America and the only one utilizing electric motors to enhance every element of dynamic performance, seamlessly combining three-motor Sport Hybrid Super Handling All-Wheel Drive™ with a bespoke twin-turbocharged, mid-mounted V6 engine to deliver an unparalleled range of driving experiences, from all-electric Quiet mode to the ultimate at-the-limit capability of Track mode.
With its multi-material space frame body, ground breaking three-motor Sport Hybrid Super-Handling All-Wheel Drive™ system , today's NSX pays homage to the ground breaking nature of the original while exploring altogether new concepts in electrified supercar performance. Also, like the original, the next-gen NSX powertrain design evolved radically from its conceptual origins.
The new Acura NSX Concept that debuted at the 2012 Detroit Auto Show showcased a naturally-aspirated 60-degree V6 mounted transverse behind the seats in a layout similar to the original NSX; however, in the middle of development, the global R&D team decided to take a more challenging path – the creation of an all-new twin-turbocharged longitudinally mounted 75-degree V6. And, similar to the move to a DOHC V6 in the original, the adoption of a new powertrain concept had wide-ranging effects on the body proportions, aerodynamics package and overall design.
Despite the major powertrain change, the development team maintained the original schedule – revealing the production version of the second-generation NSX just three years later at the 2015 Detroit Auto Show.