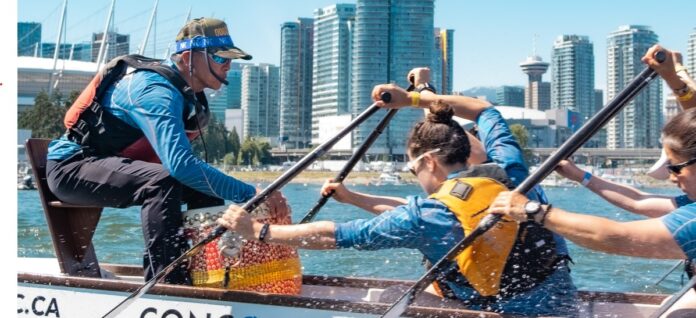 THE 2023 Concord Pacific Dragon Boat Festival is gearing up to welcome 100,000 visitors and racers to celebrate its 35th anniversary on June 24 and 25 at Concord Pacific  Place, Creekside Park, and False Creek.
Music performances by a 100% local lineup on the TD Main Stage, cultural exhibitions, an expanded food truck and craft market lineup, and 35th anniversary surprises will add to the excitement at the continent's flagship dragon boat festival. All events are free and open to the public.
"Since the Festival's founding in 1989, Concord Pacific has been a key supporter of the event. It has stayed as one of Vancouver's biggest and most inclusive summer events," said Terry Hui, President and CEO of Concord Pacific Developments Inc. "As title partner, we invite everyone to celebrate the Festival's 35-year anniversary, and again, experience one of the largest dragon boat festivals in the world."
Races start at 9 a.m. on June 24 to qualify and rank for Sunday's semi-finals and finals. Races end at 6 p.m. each day.
The Concord Pacific Champion Race Series on June 24 at noon features top teams racing in head-to-head 100 metre sprint knockout rounds in the: International Cup, 24U Cup, Senior Cup, Breast Cancer Cup, Pride Cup, and Para Cup. Capping off each day of racing, the world's largest 2K time trial circuit takes to the water with up to 18 boats racing each other in an endurance race.
Racers will paddle in a fleet of dragon boats featuring local artwork from Derek Tam, a designer by day, and dragon boat coach by evening; Bagua Artist Association, a Chinatown-based artist duo of Katharine Yi and Sean Cao who helped mobilize the first Chinatown team in almost 20 years; and famed Musqueam artist Debra Sparrow, whose work is exhibited internationally and welcomes visitors on arrival at Vancouver International Airport.
In addition to the locally designed boats, one of the restored original teak boats donated from Hong Kong to Vancouver for races at Expo 86, will be put on display courtesy of the Hong Kong Economic and Trade Office, linking the Festival to local history. Races were initially introduced as a way for the Chinese community to invite the larger community into the same boat, and to build a space for intercultural conversations in the face of cultural tensions in the 80s due to trans-Pacific migration.
The Festival remains rooted to its ancient Chinese foundation, while reflecting its modern setting. The TD Main Stage features a 100% local lineup, while platforming artists and performers from POC, Indigenous, and 2SLGBTQAI+ communities.
Of particular note, the Festival aims to honour and uphold the meaningful relationship between Chinese and Indigenous communities starting from when Chinese communities arrived in North America. This includes showcasing contemporary and traditional Indigenous artists to the TD Main Stage, inviting visitors to learn about territorial culture and protocols at the Indigenous Cultural Pavilion, and ongoing community work with the local Indigenous host nations to use the Festival to educate the community and continue this relationship.
This year, guests will also enjoy additional special experiences in celebration of the Festival's 35th anniversary on June 24. A Citizenship Ceremony at 10 a.m. will reconnect the Festival with its roots, and guests will be invited to celebrate the 35th anniversary with a free slice of birthday cake made by Chinatown's The Boss Bakery at noon, thanks to Concord Pacific.
Additional weekend festivities include:
* TD Main Stage performances include acts like like Dear Rouge, SABAI, and Ricecake.
* Chinatown Pavilion, in partnership with the Dr. Sun Yat-Sen Classical Chinese
Garden
* Vancouver's biggest waterfront patio at the Red Truck Patio at Creekside Park
* Food trucks and a local craft market in partnership with GotCraft Markets
* Displays of locally designed boat artwork on land, allowing visitors to see the local
artist's work up close