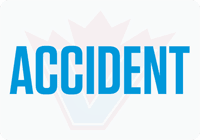 CROWN Counsel has approved a number of charges against the driver of a stolen truck who allegedly caused the multi-vehicle collision on Saturday evening in which four people were sent to hospital with non-life-threatening injuries, Vancouver Police announced on Sunday.
Fifty-year-old Vancouver resident Andrew Barry Dollman has been charged with the dangerous operation of a motor vehicle, flight from a peace officer, fail to stop at an accident, and possession of stolen property. His 37-year-old female passenger has not been charged.
Just after 5 p.m. on August 25, officers using their lights and sirens attempted to pull over the suspected stolen pick-up truck on Main Street near Pender. The driver allegedly chose not to comply and fled south on Main. Out of concern for public safety, the officers made the decision not to pursue the truck.
A short time later, the pick-up collided with a white Ford Focus on Main Street at Prior before bouncing into vehicles parked along the east side of Main Street. The two occupants of the pick-up were arrested at the scene. A total of four people, including two from the pick-up and two from the Ford Focus, were taken to hospital with non-life-threatening injuries.
Anyone who may have been driving with a dash-cam in the area of Main Street in Prior at the time of the collision, or who may have witnessed the incident and has not yet spoken with police, is asked to call investigators at 604-717-3012 or Crime Stoppers at 1-800-222-8477.