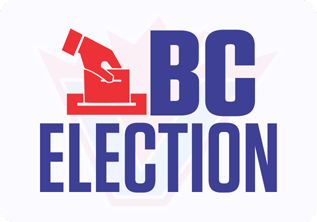 AFTER the completion of the final count for the 2020 Provincial General Election in every electoral district in the province, the results were as follows:
| | |
| --- | --- |
| Political Party | Members elected |
| BC Green Party | 2 |
| BC Liberal Party | 28 |
| BC NDP | 57 |
The NDP picked up an extra two seats: Vernon-Monashee and Abbotsford-Mission.
Voting results for each electoral district by party and candidate are available on the Elections BC website at results.elections.bc.ca.
Following the conclusion of final count, a candidate is declared elected in each electoral district and the District Electoral Officer returns the writ of election to the Chief Electoral Officer. The Chief Electoral Officer then reports the candidate elected to the Clerk of the House, formally ending the 42nd Provincial General Election in that electoral district.
A writ cannot be returned until at least six days following the end of final count – the period within which a judicial recount can be requested. The writs of election will be returned the week of November 16 in every electoral district except West Vancouver-Sea to Sky, which is subject to an automatic judicial recount.
An automatic judicial recount must take place when the difference between the top two candidates is less than 1/500 of the total ballots considered. For more information, see https://elections.bc.ca/news/media-advisory-final-count-complete-in-west-vancouver-sea-to-sky-judicial-recount-to-be-held/.
The Supreme Court of British Columbia will determine when the judicial recount takes place. West Vancouver-Sea to Sky's writ will be returned once the judicial recount is complete.
For more information on judicial recounts, see Elections BC's Guide to Voting and Counting at https://elections.bc.ca/docs/guidebooks/879-Guide-to-Voting-and-Counting.pdf.