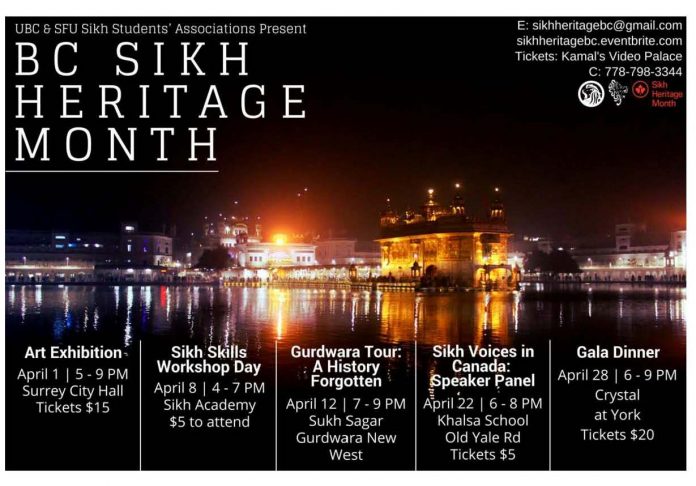 THE students of the University British Columbia and Simon Fraser University Sikh students' associations have collaborated to organize a series of fun and engaging events throughout April to mark Sikh Heritage Month.
In a joint statement, Manpreet Kaur and Danish Singh, presidents of UBC and SFU Sikh students' associations, respectively, said, 'We are delighted to be able to invite all to our Sikh Heritage Month events. We start with an art exhibition focusing on Sikh-Canadian history. Later we have a workshop on skills essential to the Sikh community, such as turban tying and calligraphy, which will be fun learning for the entire family.
"There is a Gurdwara tour led by Sukhvinder Vinning, former World Sikh Organization Executive Director. Gurdwaras are open to all and we aim to make people of all backgrounds learn to feel welcome. There is also a Sikh Voices in Canada panel discussion, where people can directly hear from and speak with leading Sikh community voices directly. To end the month, we have a gala dinner. All these events will happen alongside regular Vaisakhi celebrations, such as the Nagar Kirtans across BC.
"Sikhi is an inclusive faith and as such we hope to see people of all backgrounds and communities at these events to celebrate BC Sikh Heritage Month."
* April 1: Kala-Art Exhibition: Poet and activist Jasmin Kaur, artists Jarnail Singh and Parminder Singh, director and playwright Paneet Singh, and photographer / filmmaker Vrinder Singh Sangha.
* April 8: Sikh Skills Workshop: turban tying and calligraphy
* April 12: Gurdwara tour led by led by Sukhvinder Vinning Former World Sikh Organization Executive Director, human rights and Sikh advocacy organization.
* April 22: Sikh Voices in Canada: Gian Singh, founder of World Sikh Organization, Jasmin Kaur, poet and activist, and Parminder Singh CEO of LifeLens Technology and entrepreneur.