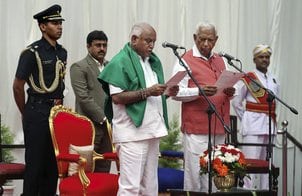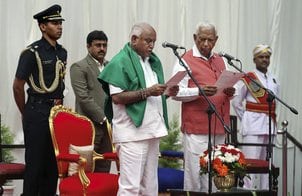 Bengaluru (PTI): BJP legislature party leader B S Yeddyurappa was on Thursday sworn in as the chief minister of Karnataka for a second time, after an overnight high-voltage legal battle in the Supreme Court.
The 75-year-old Lingayat strongman was administered the oath of office and secrecy by Governor Vajubhai Vala at a ceremony at Raj Bhavan amid loud cheering by his supporters.
Yeddyurappa was administered the oath alone, hours after the Supreme Court refused to stay his swearing-in.
In a rare post-midnight courtroom battle, the Congress-JD(S) combine made a desperate legal push to stall the government formation.
Yeddyurappa has 15 days to prove his majority in the Assembly.
The BJP has 104 MLAs in the House, eight short of the magic figure of 112.
Polling was held in 222 of the state's 224 seats.
Election to the Jayanagar seat was countermanded following the death of the BJP candidate, while polling was deferred to May 28 for R R Nagar seat due to alleged electoral malpractices.
MEANWHILE, Congress leaders on Thursday staged a protest in front of the Gandhi statue next to the Vidhana Soudha, the state secretariat, against the swearing in of B S Yeddyurappa as chief minister.
Several senior Congress leaders, including former Chief Minister Siddaramaiah, Ghulam Nabi Azad, Ashok Gehlot, Mallikarjuna Kharge, and party's General Secretary in-charge of Karnataka K C Venugopal, sat at the foot of the statue, staging the protest.
The newly elected Congress legislators, who are staying at a resort on the city outskirts, also joined the protest.
Janata Dal (Secular) legislators and leaders will also be joining the agitation soon, party sources said.
Speaking to reporters, Siddaramaiah termed as "unprecedented" Governor Vajubhai Vala's decision to grant 15 days time to Yeddyurappa for proving majority in the assembly.
He said Yeddyurappa would now have to furnish the list of MLA's supporting him immediately.
Earlier, the Supreme Court refused to stay the swearing-in after a rare post-midnight courtroom battle unfolded dramatically over the Congress-JD(S) combine's legal push to stall government formation.
After a nearly three-and-a-half-hour hearing beginning 2:11 AM, a three-judge apex court bench also made it clear that the swearing-in and the government formation would be subject to the final outcome of the case before it.
The bench, comprising justices A K Sikri, S A Bobde and Ashok Bhushan, posted the matter for further hearing tomorrow morning and ordered placing before it the letter of support from MLAs presented by the BJP to the Karnataka Governor while staking claim to form the government.