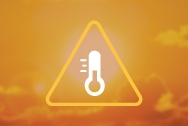 AS of Monday, July 25, Environment Canada has issued a heat warning for the City of Delta and surrounding areas in the Lower Mainland. Stage 1 of Delta's Heat Response Plan has been activated, which includes disseminating information to the public about how to stay safe in the heat and a list of our air-conditioned facilities that are currently open, in addition to staffing of Delta's Beat the Heat telephone hotline – 604-946-3200.
City staff will be coordinating with community partners on available services and resources to support unsheltered and vulnerable individuals in Delta during this period of increased temperatures. The current heat wave is forecasted to have daytime high temperatures ranging from 31 to 35 degrees Celsius inland and 25 to 29 degrees Celsius near the water and is expected to last through the week.
If the Heat Warning criteria continue to be met over the next few days where there is a substantive increase in temperatures over three or more consecutive days, the City of Delta says it is prepared to activate an Extreme Heat Emergency alert. Three of Delta's cooling centres and the Beat the Heat hotline will transition to 24/7 operation, with seniors busses supporting transportation needs to air-conditioned facilities.
Delta's cooling centres for Stage 1 heat warning events (visit website at delta.ca or call the facilities below for hours of operation as they vary):
Recreation and Community Centres
| | | |
| --- | --- | --- |
| North Delta Rec. Centre | 11415 84 Avenue, North Delta | 604-952-3045 |
| Kennedy Seniors Rec. Centre* | 11760 88 Avenue, North Delta | 604-594-2717 |
| Sungod Rec. Centre | 7815 112 Street, North Delta | 604-952-3075 |
| | | |
| --- | --- | --- |
| Ladner Leisure Centre | 4600 Clarence Taylor Cres., Ladner | 604-946-3310 |
| McKee Seniors Rec. Centre* | 5155 47 Avenue, Ladner | 604-946-1411 |
| | | |
| --- | --- | --- |
| Winskill Aquatic & Fitness Centre | 5575 9 Avenue, Tsawwassen | 604-952-3005 |
| South Delta Rec. Centre | 1720 56 Street, Tsawwassen | 604-952-3020 |
| KinVillage Community Centre* | 5410 10 Avenue, Tsawwassen | 604-943-0155 |
Outdoor Pools and Water Parks
North Delta Outdoor Pool

11415 84 Avenue, North Delta

604-952-3045

Lions Wellness Park

9150 112 Street, North Delta

delta.ca for info

Memorial Park – Ladner Rotary Splash Park

5010 47 Avenue, Ladner

delta.ca for info

Ladner Outdoor Pool

5105 47 Avenue, Ladner

604-946-9226

Diefenbaker Park – Rotary 

Waterworks Playground

5579 1 Avenue, Tsawwassen

delta.ca for info
Libraries
| | | |
| --- | --- | --- |
| George Mackie Library | 8440 112 Street, North Delta | 604-594-8155 |
| Ladner Pioneer Library | 4683 51 Street, Ladner | 604-946-6215 |
| Tsawwassen Library | 1321A 56 Street, Tsawwassen | 604-943-2271 |
* Marked facilities will transition to 24/7 operations in the event of a Stage 2 activation
Information about the City of Delta's Heat Response Plan and our Beat the Heat campaign can be found at www.delta.ca/beattheheat or via our Beat the Heat hotline at 604-946-3200