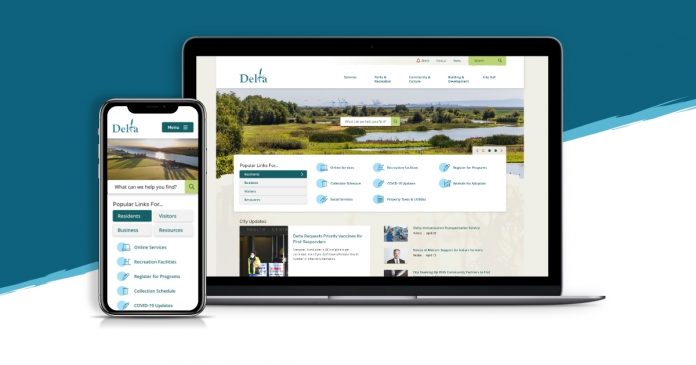 THE City of Delta officially launched its new website on Tuesday incorporating a fresh look, improved navigation, and new interactive tools.
The new, service-focused website was designed with the goal of boosting community awareness and engagement.
"Our website is the first impression many people have of our City," said Mayor George V. Harvie. "It is the portal that allows community members to connect with local government from any location, at any time. During the pandemic, it became apparent that our website is one of the most powerful tools we have to keep the public informed, which is why this redesign is essential to our overall community outreach efforts."
The website includes an expanded digital services center, extensive frequently asked questions, and updated and simplified content. Other improved website features include:
Navigation organization that is aligned with how visitors typically search for information and items.

A responsive design that provides consistent viewing on any device or computer.

Improved online form functionality.

A more prominent Service Requests section for asking questions or reporting problems.
The new website also conforms to the Worldwide Web Consortium Web Content Accessibility Guidelines. "The City of Delta is committed to providing a website that is accessible to the widest possible audience, regardless of technology or ability," said City Manager Sean McGill. "We have worked hard to integrate content across new and existing channels to enhance the availability of City information to the public. The new website reflects a strong, contemporary design and ties Delta's historical roots to its progressive attitude."
The City said the project has included extensive research, consultation with the public, staff and other stakeholders, content review and consolidation, internal and external testing, refinements based on feedback, and staff training. The updated website was also tested and reviewed with virtual testing groups prior to launch and the City will continue to collect user feedback through an online form where ideas and suggestions for improvement can be submitted.