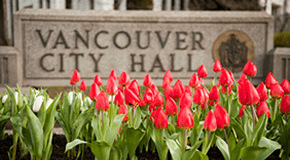 THE City of Vancouver says it is making recycling live, cut Christmas trees easy this holiday season with free options for Vancouver residents:
· Bring your tree to any Lion's Club chipping event January 8-9
· City-wide tree (and extra leaf) collection January 15-16
· Drop your tree off for free at the Transfer Station or Landfill until January 31
To prepare your tree for recycling, remove all lights, decorations, and tinsel beforehand. Artificial trees or trees sprayed with artificial snow or foam are not accepted.
Trees collected by the City's programs are turned into nutrient-rich compost at the Vancouver Landfill. This compost is then sold to residential gardeners, commercial landscapers and municipal parks departments.
More information on recycling live, cut Christmas trees is available below and at vancouver.ca/christmastree.
Lions Club Tree Chipping Events
Saturday, January 8 and Sunday, January 9
10 a.m. – 4 p.m.
Locations:
· King George Secondary School parking lot
· Kitsilano Beach parking lot
· Kerrisdale Ice Arena parking lot
· Trout Lake Community Centre parking lot
Donations of cash and non-perishable food items are welcome and will be distributed to local charities.
Curbside Tree (and extra leaf) Collection – January 15 and 16
Trees and extra leaves will be collected from homes with City Green Bin service the weekend of January 15 and 16. Set out your tree and/or leaves before 7 a.m. on Saturday, January 15 in their regular collection area to avoid being missed.
Free Drop-off to Transfer Station or Landfill – until January 31
Trees can be dropped off for free until January 31 at the following locations:
· Vancouver South Transfer Station, 377 West Kent Avenue North
· Vancouver Landfill, 5400 72nd Street in Delta